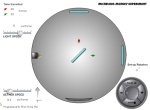 written by Michael Fowler and Jacquie Hui Wan Ching

This web page contains a simulation that recreates the Michelson-Morley experiment. The main objective of this experiment was to prove the existence of the medium in which light propagated: the luminiferous aether. This simulation allows the user to experiment with the interferometer by changing the speed of light and rotating its plane. It also has the possibility to include the aether. At the bottom of the page a l;ink to the theory involved is provided.

Please note that this resource requires Flash.

Subjects
Levels
Resource Types
Electricity & Magnetism

- Electromagnetic Radiation

Optics

- Interference

Relativity

- Miscellaneous

- Special Relativity

- Lower Undergraduate

- High School

- Upper Undergraduate

- Instructional Material

= Curriculum

- Audio/Visual

= Movie/Animation
Intended Users
Formats
Ratings

- Learners

- Educators

- application/flash

- text/html
Access Rights:

Free access

Restriction:

© 2003 Michael Fowler


Keywords:

Aether, Interferometer, Michelson-Morley, Speed of Light

Record Cloner:

Metadata instance created July 14, 2007 by Enrique Suarez

Record Updated:

August 22, 2009 by Gregory Comer

Last Update
when Cataloged:

August 6, 2007

Other Collections:



ComPADRE is beta testing Citation Styles!
Disclaimer
: ComPADRE offers citation styles as a guide only. We cannot offer interpretations about citations as this is an automated procedure. Please refer to the style manuals in the
Citation Source Information
area for clarifications.
Supplements
Contribute
Related Materials
Similar Materials