Featured Collection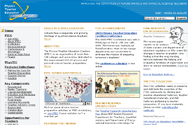 Physics Teacher Education Coalition
The PhysTEC website offers resources for faculty and master teachers engaged in teacher education.
Did You Know?
Physics to Go is in it's 220th issue! View archived issues here.
The ComPADRE Digital Library is

Sponsored in part by NSF grants DUE-0226129 and DUE-0532798.
The ComPADRE Digital Library is a network of free online resource collections supporting faculty, students, and teachers in Physics and Astronomy Education.
Each of our collections contain materials designed for a specific community. Browse below to find a collection right for you.