Featured Collection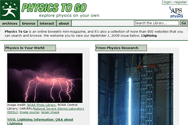 Physics to Go
A collection of more than 700 websites that you can search or browse to explore physics on your own.
Did You Know?
The Physics Front organizes resources for new and cross-over teachers into units. View the units here.
The ComPADRE Digital Library is

Sponsored in part by NSF grants DUE-0226129 and DUE-0532798.
The ComPADRE Digital Library is a network of free online resource collections supporting faculty, students, and teachers in Physics and Astronomy Education.
Each of our collections contain materials designed for a specific community. Browse below to find a collection right for you.