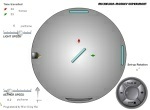 written by Michael Fowler and Heather Welch

This page simulates the 1887 Michelson-Morley Experiment, one of the most famous null results in history. The purpose of the experiment was to prove the existence of "luminiferous aether" considered at the time to be the medium through which light propagated. Students can control the interferometer by changing the speed of light, altering the aether, and rotating the experimental chamber. The results of this experiment provided the first clear demonstration that the "aether drag theory" was seriously flawed.

Subjects
Levels
Resource Types
General Physics

- History

Optics

- Geometrical Optics

= Speed of Light

Relativity

- Special Relativity

- High School

- Lower Undergraduate

- Instructional Material

= Interactive Simulation

- Audio/Visual

= Movie/Animation
| Intended Users | Formats | Ratings |
| --- | --- | --- |
| - Learners | - application/flash | |
Access Rights:

Free access

Restriction:

© 2004 Michael Fowler


Keywords:

Aether, Michelson-Morley, Speed of light, aether drag

Record Cloner:

Metadata instance created June 19, 2008 by Christopher Allen

Record Updated:

July 5, 2012 by Caroline Hall

Last Update
when Cataloged:

May 30, 2010

Other Collections:



AAAS Benchmark Alignments (2008 Version)
1. The Nature of Science
1A. The Scientific Worldview
6-8: 1A/M2. Scientific knowledge is subject to modification as new information challenges prevailing theories and as a new theory leads to looking at old observations in a new way.
9-12: 1A/H2. From time to time, major shifts occur in the scientific view of how things work. More often, however, the changes that take place in the body of scientific knowledge are small modifications of prior knowledge. Continuity and change are persistent features of science.
9-12: 1A/H3bc. In science, the testing, revising, and occasional discarding of theories, new and old, never ends. This ongoing process leads to a better understanding of how things work in the world but not to absolute truth.
1B. Scientific Inquiry
9-12: 1B/H7. New ideas in science are limited by the context in which they are conceived; are often rejected by the scientific establishment; sometimes spring from unexpected findings; and usually grow slowly, through contributions from many investigators.
4. The Physical Setting
4F. Motion
9-12: 4F/H3c. In empty space, all electromagnetic waves move at the same speed—the "speed of light."
ComPADRE is beta testing Citation Styles!
Disclaimer
: ComPADRE offers citation styles as a guide only. We cannot offer interpretations about citations as this is an automated procedure. Please refer to the style manuals in the
Citation Source Information
area for clarifications.
Fowler's Physics Applets: Michelson-Morley Experiment:
---
Know of another related resource? Login to relate this resource to it.
Supplements
Contribute
Related Materials
Similar Materials