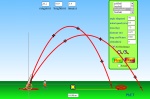 published by the Physics Education Technology Project

This webpage contains a simulation that allows the user to fire various objects out of a cannon. By manipulating angle, initial speed, mass, and air resistance, concepts of projectile motion are illustrated. This page also contains user-submitted suggestions of ideas and activities for this simulation.

This item is part of a larger collection of simulations developed by the Physics Education Technology project (PhET). The simulations are animated, interactive, and game-like environments in which students learn through exploration. All of the simulations are freely available from the PhET web site for incorporation into classes.

Subjects
Levels
Resource Types
Classical Mechanics

- Applications of Newton's Laws

- Motion in Two Dimensions

- Lower Undergraduate

- High School

- Middle School

- Instructional Material

= Activity
Intended Users
Formats
Ratings

- Learners

- Educators

- application/flash
Mirror:

Access Rights:

Free access

Restriction:

Keywords:

2d motion, acceleration, ballistic motion, gravity, interactive multimedia, kinematics, projectile motion

Record Cloner:

Metadata instance created April 7, 2006 by Caroline Hall

Record Updated:

September 20, 2012 by Caroline Hall

Last Update
when Cataloged:

March 3, 2006

Other Collections:



AAAS Benchmark Alignments (2008 Version)
4. The Physical Setting
4F. Motion
6-8: 4F/M3a. An unbalanced force acting on an object changes its speed or direction of motion, or both.
9-12: 4F/H1. The change in motion (direction or speed) of an object is proportional to the applied force and inversely proportional to the mass.
9-12: 4F/H8. Any object maintains a constant speed and direction of motion unless an unbalanced outside force acts on it.
11. Common Themes
11B. Models
6-8: 11B/M1. Models are often used to think about processes that happen too slowly, too quickly, or on too small a scale to observe directly. They are also used for processes that are too vast, too complex, or too dangerous to study.
9-12: 11B/H1a. A mathematical model uses rules and relationships to describe and predict objects and events in the real world.
Common Core State Standards for Mathematics Alignments
Standards for Mathematical Practice (K-12)
MP.2 Reason abstractly and quantitatively.
High School — Algebra (9-12)
Seeing Structure in Expressions (9-12)
A-SSE.1.b Interpret complicated expressions by viewing one or more of their parts as a single entity.
High School — Functions (9-12)
Linear, Quadratic, and Exponential Models? (9-12)
F-LE.2 Construct linear and exponential functions, including arithmetic and geometric sequences, given a graph, a description of a relationship, or two input-output pairs (include reading these from a table).
ComPADRE is beta testing Citation Styles!
Disclaimer
: ComPADRE offers citation styles as a guide only. We cannot offer interpretations about citations as this is an automated procedure. Please refer to the style manuals in the
Citation Source Information
area for clarifications.
PhET Simulation: Projectile Motion:
---
Know of another related resource? Login to relate this resource to it.
Supplements
Contribute
Related Materials
Similar Materials
Featured By