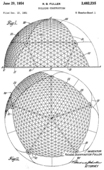 Please be aware that our automated link checking software has listed this item as potentially having a problem.
published by the Institute of Electrical and Electronics Engineers
supported by the International Business Machines

This is a lesson plan that explores principles in civil engineering and architecture, developed to help teachers integrate engineering practices in the secondary classroom. Students work in teams to design and build a small dome frame out of everyday items that can hold a weight on top without collapsing. The driving question of the lesson: How do civil engineers design and build domes, taking into consideration the forces of compression and tension?

The lesson follows a module format that includes objectives and learner outcomes, problem sets, student guides, recommended reading, illustrated procedures, worksheets, and background information about the engineering connections. This resource is part of TryEngineering.org.

Subjects
Levels
Resource Types
Classical Mechanics

- Newton's First Law

= Inertia at Rest

- Statics of Rigid Bodies

= Equilibrium

Education Practices

- Active Learning

Other Sciences

- Engineering

- Middle School

- High School

- Instructional Material

= Activity

= Instructor Guide/Manual

- Audio/Visual

= Illustration
Intended Users
Formats
Ratings

- Educators

- Learners

- application/pdf

- application/ms-word

- text/html
Safety Warnings


Access Rights:

Free access

Restriction:

© 2010 Institute of Electrical and Electronics Engineers


Keywords:

applied physics, building structures, compression, engineering activity, engineering lab, engineering lessons, structural engineering, tension

Record Cloner:

Metadata instance created July 30, 2012 by Gnana Subramaniam

Record Updated:

January 14, 2013 by Caroline Hall

Last Update
when Cataloged:

December 4, 2010

Other Collections:



AAAS Benchmark Alignments (2008 Version)
4. The Physical Setting
4D. The Structure of Matter
3-5: 4D/E6. All materials have certain physical properties, such as strength, hardness, flexibility, durability, resistance to water and fire, and ease of conducting heat.
4F. Motion
9-12: 4F/H4. Whenever one thing exerts a force on another, an equal amount of force is exerted back on it.
8. The Designed World
8B. Materials and Manufacturing
6-8: 8B/M2. Manufacturing usually involves a series of steps, such as designing a product, obtaining and preparing raw materials, processing the materials mechanically or chemically, and assembling the product. All steps may occur at a single location or may occur at different locations.
11. Common Themes
11B. Models
3-5: 11B/E3. A model of something is similar to, but not exactly like, the thing being modeled. Some models are physically similar to what they are representing, but others are not.
9-12: 11B/H5. The behavior of a physical model cannot ever be expected to represent the full-scale phenomenon with complete accuracy, not even in the limited set of characteristics being studied. The inappropriateness of a model may be related to differences between the model and what is being modeled.
12. Habits of Mind
12D. Communication Skills
6-8: 12D/M8. Explain a scientific idea to someone else, checking understanding and responding to questions.
6-8: 12D/M9. Prepare a visual presentation to aid in explaining procedures or ideas.
ComPADRE is beta testing Citation Styles!
Disclaimer
: ComPADRE offers citation styles as a guide only. We cannot offer interpretations about citations as this is an automated procedure. Please refer to the style manuals in the
Citation Source Information
area for clarifications.
TryEngineering: Design a Dome:
Is Supplemented By
Teachers' Domain: Forces Lab
A four-part interactive simulation that explores the forces to be considered in structural engineering: compression, tension, torque, and shear. Appropriate for Grades 4-9.
relation by Caroline Hall
Same topic as
PBS Building Big: All About Domes
Explore the basics of domes with an interactive "Materials Lab" and a databank of information about 10 of the world's most famous dome structures.
relation by Caroline Hall
---
Know of another related resource? Login to relate this resource to it.
Supplements
Contribute
Related Materials
Similar Materials