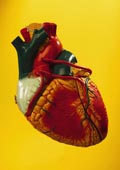 Please be aware that our automated link checking software has listed this item as potentially having a problem.
published by the Institute of Electrical and Electronics Engineers
supported by the International Business Machines

This is a lesson plan that explores the operation and engineering of artificial heart valves, developed to help teachers integrate engineering practices in the secondary classroom. Students examine and operate both a ball valve and a gate valve, then they work as a team of "engineers" to develop and sketch enhancements to the mechanical heart valve. The driving question of the lesson: How do engineers design human/machine interface systems to meet human needs?

The lesson follows a module format that includes objectives and learner outcomes, problem sets, student guides, recommended reading, illustrated procedures, worksheets, and background information about the engineering connections. The lesson plan and student worksheets are available for download.

This collection is part of TryEngineering.org, a website maintained by the Institute of Electrical and Electronics Engineers (IEEE).

Subjects
Levels
Resource Types
Classical Mechanics

- Applications of Newton's Laws

Education Practices

- Active Learning

Fluid Mechanics

- Dynamics of Fluids

= Flow Rate

- Statics of Fluids

= Static Pressure

Other Sciences

- Engineering

- Middle School

- High School

- Instructional Material

= Activity

= Instructor Guide/Manual

- Audio/Visual

= Illustration
Intended Users
Formats
Ratings

- Educators

- Learners

- text/html

- application/ms-word

- application/pdf
Safety Warnings


Access Rights:

Free access

Restriction:

© 2006 Institute of Electrical and Electronics Engineers


Keywords:

applied physics, engineering activity, engineering design, engineering lessons, engineering practices, fluid mechanics, hydraulics, medical technology

Record Cloner:

Metadata instance created July 23, 2012 by Gnana Subramaniam

Record Updated:

October 19, 2012 by Caroline Hall

Last Update
when Cataloged:

December 4, 2010

Other Collections:



AAAS Benchmark Alignments (2008 Version)
3. The Nature of Technology
3A. Technology and Science
6-8: 3A/M3. Engineers, architects, and others who engage in design and technology use scientific knowledge to solve practical problems. They also usually have to take human values and limitations into account.
9-12: 3A/H3a. Technology usually affects society more directly than science does because technology solves practical problems and serves human needs (and also creates new problems and needs).
4. The Physical Setting
4F. Motion
6-8: 4F/M3a. An unbalanced force acting on an object changes its speed or direction of motion, or both.
8. The Designed World
8B. Materials and Manufacturing
6-8: 8B/M2. Manufacturing usually involves a series of steps, such as designing a product, obtaining and preparing raw materials, processing the materials mechanically or chemically, and assembling the product. All steps may occur at a single location or may occur at different locations.
6-8: 8B/M5. Efforts to find replacements for existing materials are driven by an interest in finding materials that are cheaper to obtain or produce or that have more desirable properties.
11. Common Themes
11A. Systems
6-8: 11A/M2. Thinking about things as systems means looking for how every part relates to others. The output from one part of a system (which can include material, energy, or information) can become the input to other parts. Such feedback can serve to control what goes on in the system as a whole.
12. Habits of Mind
12C. Manipulation and Observation
6-8: 12C/M3. Make accurate measurements of length, volume, weight, elapsed time, rates, and temperature by using appropriate devices.
6-8: 12C/M5. Analyze simple mechanical devices and describe what the various parts are for; estimate what the effect of making a change in one part of a device would have on the device as a whole.
12D. Communication Skills
6-8: 12D/M6. Present a brief scientific explanation orally or in writing that includes a claim and the evidence and reasoning that supports the claim.
6-8: 12D/M8. Explain a scientific idea to someone else, checking understanding and responding to questions.
6-8: 12D/M9. Prepare a visual presentation to aid in explaining procedures or ideas.
Common Core State Reading Standards for Literacy in Science and Technical Subjects 6—12
Key Ideas and Details (6-12)
RST.9-10.3 Follow precisely a complex multistep procedure when carrying out experiments, taking measurements, or performing technical tasks, attending to special cases or exceptions defined in the text.
Integration of Knowledge and Ideas (6-12)
RST.9-10.7 Translate quantitative or technical information expressed in words in a text into visual form (e.g., a table or chart) and translate information expressed visually or mathematically (e.g., in an equation) into words.
RST.11-12.7 Integrate and evaluate multiple sources of information presented in diverse formats and media (e.g., quantitative data, video, multimedia) in order to address a question or solve a problem.
Common Core State Writing Standards for Literacy in History/Social Studies, Science, and Technical Subjects 6—12
Research to Build and Present Knowledge (6-12)
WHST.6-8.7 Conduct short research projects to answer a question (including a self-generated question), drawing on several sources and generating additional related, focused questions that allow for multiple avenues of exploration.
WHST.9-10.9 Draw evidence from informational texts to support analysis, reflection, and research.
ComPADRE is beta testing Citation Styles!
Disclaimer
: ComPADRE offers citation styles as a guide only. We cannot offer interpretations about citations as this is an automated procedure. Please refer to the style manuals in the
Citation Source Information
area for clarifications.
TryEngineering: Heart of the Matter:
Covers the Same Topic As
Affairs of the Heart: Exploring Vessel Physics
A set of multimedia materials for grades 5-9 on fluid dynamics in the context of the human heart. Includes labs, activities, and video clips of heart surgeries.
relation by Caroline Hall
---
Know of another related resource? Login to relate this resource to it.
Supplements
Contribute
Related Materials
Similar Materials