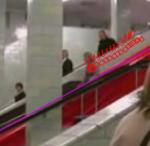 written by Anne Cox

The Sliding down the Subway exercise is a video analysis of a person sliding down a slide installed over a set of stairs in a subway (as part of the VW Fast Lane Series).
The zip file contains the video, instructions and the Tracker file.
Credits:
The original video came from Volkswagen:
http://www.youtube.com/watch?v=W4o0ZVeixYU
.
To open the Tracker file, download and run Tracker from
http://www.cabrillo.edu/~dbrown/tracker/
. Tracker is free.

download 459kb .zip
Last Modified: January 31, 2012

View the supplemental document attached to this resource

Sliding down the Subway Activity
Sliding down the Subway Activity is a series of questions for students to answer using the video analysis of the motion of a person down a slide.
download 210kb .pdf
Published: January 31, 2012
Subjects
Levels
Resource Types
Classical Mechanics

- Applications of Newton's Laws

= Friction

- Motion in One Dimension

= Acceleration

- Newton's Second Law

= Force, Acceleration

Education Practices

- Active Learning

= Modeling

- Lower Undergraduate

- High School

- Instructional Material

= Activity

- Audio/Visual

= Movie/Animation
Intended Users
Formats
Ratings

- Learners

- Educators

- application/pdf

- application/zip

- video/mpeg
Access Rights:

Free access

License:

This material is released under a Creative Commons Attribution-Noncommercial-Share Alike 3.0 license.

Rights Holder:

Anne J Cox

Keywords:

motion tracker, video analysis, video lab

Record Cloner:

Metadata instance created January 31, 2012 by Anne Cox

Record Updated:

January 31, 2012 by Wolfgang Christian

Last Update
when Cataloged:

January 31, 2012

Other Collections:



ComPADRE is beta testing Citation Styles!
Disclaimer
: ComPADRE offers citation styles as a guide only. We cannot offer interpretations about citations as this is an automated procedure. Please refer to the style manuals in the
Citation Source Information
area for clarifications.
Supplements
Contribute
Similar Materials