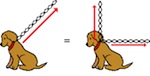 written by Tom Henderson

This interactive tutorial explains how to resolve a force into force components. Numerous examples are combined with a simple language and informative graphics to provide students with a solid grasp of the method. Several practice problems and a Check Your Understanding section allows students to self-assess their learning.

This is part of The Physics Classroom Tutorial series, a set of instructional pages aimed at students looking for a better grasp of basic concepts.

Subjects
Levels
Resource Types
Classical Mechanics

- Motion in Two Dimensions

= 2D Acceleration

- High School

- Lower Undergraduate

- Instructional Material

= Curriculum support
Intended Users
Formats
Ratings

- Learners

- text/html

- image/gif
Access Rights:

Free access

Restriction:

© 1996 Tom Henderson


Keywords:

Force Vectors, Force addition, Force components, Force resolution

Record Cloner:

Metadata instance created March 25, 2011 by Tom Henderson

Record Updated:

December 15, 2012 by Cathy Ezrailson

Other Collections:



ComPADRE is beta testing Citation Styles!
Disclaimer
: ComPADRE offers citation styles as a guide only. We cannot offer interpretations about citations as this is an automated procedure. Please refer to the style manuals in the
Citation Source Information
area for clarifications.
Physics Classroom: Resolution of Forces:
---
Know of another related resource? Login to relate this resource to it.
Contribute
Related Materials
Similar Materials