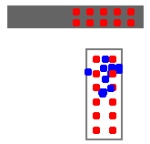 written by Taha Mzoughi

In the following pages simulations are used to help provide an introduction to various Electrostatics concepts. These includes the difference between conductors and insulators, charging by conduction and induction and the triboelectric series. 17 out of the 18 simulations used are PhysLet based simulations. The 18th, the one about the Van de Graff generator, is a translation of a simulation of a simulation developed in Spanish by Professor Angel Franco Garcia.

Please note that this resource requires Java Applet Plug-in.

Subjects
Levels
Resource Types
Electricity & Magnetism

- Electrostatics

- Lower Undergraduate

- Middle School

- High School

- Instructional Material

= Interactive Simulation
Intended Users
Formats
Ratings

- Educators

- Learners

- application/java

- text/html
Access Rights:

Free access

Restriction:

© 2009 Taha Mzoughi


Keywords:

Van de Graaf, charge, conductor, electrical potential, electrostatic, insulator, potential, voltage

Record Cloner:

Metadata instance created December 25, 2010 by Taha Mzoughi

Record Updated:

August 14, 2016 by Lyle Barbato

Last Update
when Cataloged:

September 27, 2009

Other Collections:



ComPADRE is beta testing Citation Styles!
Disclaimer
: ComPADRE offers citation styles as a guide only. We cannot offer interpretations about citations as this is an automated procedure. Please refer to the style manuals in the
Citation Source Information
area for clarifications.
Introduction to Electrostatics Principles:
---
Know of another related resource? Login to relate this resource to it.
Supplements
Contribute
Related Materials
Similar Materials