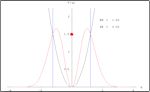 Numerical Solutions to the Schrödinger Equation
written by Richard Gass

Studying quantum mechanics in one-dimension allows you to learn the basics of quantum mechanics and to develop your quantum intuition without some of the mathematical complexities present in three-dimensions.


download 55827kb .nb
Last Modified: February 20, 2009
Subjects
Levels
Resource Types
Quantum Physics

- Approximation Techniques

- Bound State Systems

- Upper Undergraduate

- Graduate/Professional

- Lower Undergraduate

- Instructional Material


- Tool

Intended Users
Formats
Ratings

- Learners

- Educators

- application/mathematica
Access Rights:

Free access

Restriction:

Does not have a copyright, license, or other use restriction.


Keywords:

barriers, charged oscillations, harmonic oscillator, multiple wells, one dimensional systems, ordinary differential equations, quantum well, time dependent, wave packets

Record Creator:

Metadata instance created February 20, 2009 by David Winch

Record Updated:

February 20, 2013 by Bruce Mason

Other Collections:



ComPADRE is beta testing Citation Styles!
Disclaimer
: ComPADRE offers citation styles as a guide only. We cannot offer interpretations about citations as this is an automated procedure. Please refer to the style manuals in the
Citation Source Information
area for clarifications.