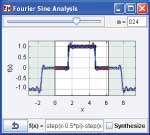 written by Wolfgang Christian

The Fourier sine series model displays the sine series expansion coefficients of an arbitrary function on the interval [0, 2pi].

Please note that this resource requires at least version 1.5 of Java (JRE).


download 1396kb .jar
Last Modified: October 25, 2009
previous versions

View the source code document attached to this resource

Fourier Sine Series Model Source Code
This source code archive contains an XML representation of the Fourier Sine Series model. Unzip this archive in your EJS Workspace to compile and run this…
more...
download 9kb .zip
Last Modified: October 25, 2009
Subjects
Levels
Resource Types
General Physics

- Computational Physics

Mathematical Tools

- Fourier and Special Functions

- Upper Undergraduate

- Instructional Material

= Interactive Simulation
| Intended Users | Formats | Ratings |
| --- | --- | --- |
| - Educators | - application/java | |
Access Rights:

Free access

License:

This material is released under a GNU General Public License Version 3 license.

Rights Holder:

Wolfgang Christian

Keywords:

Fourier series, orthonormal sets, sine series

Record Creator:

Metadata instance created September 18, 2008 by Wolfgang Christian

Record Updated:

June 1, 2011 by Lyle Barbato

Other Collections:



ComPADRE is beta testing Citation Styles!
Disclaimer
: ComPADRE offers citation styles as a guide only. We cannot offer interpretations about citations as this is an automated procedure. Please refer to the style manuals in the
Citation Source Information
area for clarifications.
Supplements
Contribute
Related Materials
Similar Materials