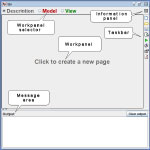 written by Francisco Esquembre
content provider: Wolfgang Christian

Easy Java Simulations (EJS) is a Java program that enables both programmers and novices to quickly and easily prototype, test, and distribute packages of Java simulations.

Please note that this resource requires at least version 1.5 of Java (JRE).


download 27389kb .zip
Last Modified: May 16, 2013
previous versions

View the supplemental documents attached to this resource (2)

Archival EJS version 4.2
EJS version 4.2 can read files generated by previous versions but version 4.2 models are not backward compatible and cannot be read by previous versions.
download 13192kb .zip
Last Modified: June 14, 2010

Archival EJS version 4.1
Archival version of EJS 4.1.
download 12920kb .zip
Published: July 13, 2009
previous versions
Subjects
Levels
Resource Types
Education Practices

- Curriculum Development

= Course

General Physics

- Computational Physics

Other Sciences

- Computer Science

- Lower Undergraduate

- Upper Undergraduate

- High School

- Graduate/Professional

- Instructional Material

= Curriculum
Intended Users
Formats
Ratings

- Learners

- Professional/Practitioners

- Educators

- application/java
Mirror:

Access Rights:

Free access

License:

This material is released under a GNU General Public License Version 3 license. GNU GPL

Rights Holder:

Francisco Esquembre

Keywords:

Easy Java Simulations, authoring, modeling

Record Creator:

Metadata instance created May 30, 2008 by Wolfgang Christian

Record Updated:

May 16, 2013 by Wolfgang Christian

Last Update
when Cataloged:

May 30, 2008

Other Collections:



ComPADRE is beta testing Citation Styles!
Disclaimer
: ComPADRE offers citation styles as a guide only. We cannot offer interpretations about citations as this is an automated procedure. Please refer to the style manuals in the
Citation Source Information
area for clarifications.
Easy Java Simulations Modeling and Authoring Tool:
---
Know of another related resource? Login to relate this resource to it.
Supplements
Contribute
Related Materials
Is Referenced By Is the Basis For Is the Basis For
Similar Materials
Featured By