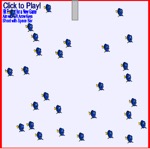 Shooting Fish in a Barrel Model
written by Jack Taylor

The Shooting Fish in a Barrel Model presents a simple game that shows how to solve arrays of ordinary differential equations (ODEs) and how to use ODE events to detect collisions. This game was developed a mid-term project in computational physics class at Davidson College.

The Shooting Fish in a Barrel Model was created using the Easy Java/JavaScript Simulations (EjsS) modeling tool. It is distributed as a ready-to-run (compiled) Java archive.

Please note that this resource requires at least version 1.6 of Java (JRE).


download 3452kb .jar
Published: March 6, 2016

1 source code document is available
Subjects
Levels
Resource Types
Classical Mechanics

- Linear Momentum

= Conservation of Linear Momentum

- Motion in Two Dimensions

= Position & Displacement

- Newton's Second Law

= Interacting Objects

- Lower Undergraduate

- High School

- Informal Education

- Instructional Material

= Interactive Simulation
Intended Users
Formats
Ratings

- Learners

- Educators

- application/java
Access Rights:

Free access
Program released under GNU-GPL. Narrative is copyrighted.

License:

This material is released under a Creative Commons Attribution-Noncommercial-Share Alike 3.0 license.

Rights Holder:

Jack Taylor

Record Cloner:

Metadata instance created March 6, 2016 by Wolfgang Christian

Record Updated:

March 6, 2016 by Wolfgang Christian

Last Update
when Cataloged:

March 6, 2016

Other Collections:



ComPADRE is beta testing Citation Styles!
Disclaimer
: ComPADRE offers citation styles as a guide only. We cannot offer interpretations about citations as this is an automated procedure. Please refer to the style manuals in the
Citation Source Information
area for clarifications.
Shooting Fish in a Barrel Model:
---
Know of another related resource? Login to relate this resource to it.
Supplements
Contribute
Related Materials
Similar Materials