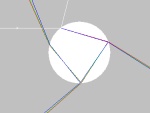 written by Fu-Kwun Hwang

This page contains a short explanation and Java simulation of the physics behind rainbows. It covers the reflection and refraction effects of light inside a water droplet as well as polarization. A discussion forum regarding this material is also provided.

This is part of the Virtual Physics Laboratory at the National Taiwan Normal University. The applet and HTML files are available for download to registered users.

Subjects
Levels
Resource Types
Optics

- Color

- Diffraction

- General

- Geometrical Optics

= Rainbow

= Reflection - Curved Surfaces

- Polarization

= Polarization by Reflection

- Lower Undergraduate

- High School

- Instructional Material

= Interactive Simulation

- Audio/Visual

= Movie/Animation
Intended Users
Formats
Ratings

- Learners

- Professional/Practitioners

- Educators

- application/java

- text/html
Access Rights:

Free access

Restriction:

© 2004 Fu-Kwun Hwang


Keywords:

Law of Refraction, Rainbows, Sunlight, polarization, rainbow, water

Record Creator:

Metadata instance created April 1, 2004 by Matthew Meizlish

Record Updated:

January 23, 2011 by Lyle Barbato

Last Update
when Cataloged:

January 28, 2004

Other Collections:



ComPADRE is beta testing Citation Styles!
Disclaimer
: ComPADRE offers citation styles as a guide only. We cannot offer interpretations about citations as this is an automated procedure. Please refer to the style manuals in the
Citation Source Information
area for clarifications.
NTNU Java: Physics of Rainbow:
---
Know of another related resource? Login to relate this resource to it.
Supplements
Contribute
Related Materials
Similar Materials
Featured By