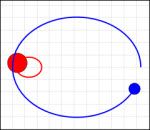 written by Wolfgang Christian

The Two-Body Orbits JavaScript Model shows the motion of two objects (e.g., binary star or moon-planet system) interacting via Newton's law of universal gravitation. It is designed to teach physics, Earth science, and environmental science topics by showing the spatial path of objects around their common center of mass (barycenter). Default units are chosen for Earth obit about our Sun so that the distance unit is one astronomical unit and the time unit is one year.

The Two-Body Orbits JS Model was developed using the Easy Java Simulations (EJS) version 5. Although EJS 5 is a Java program, it can create stand alone JavaScript programs that run in almost any PC or tablet browser.


download 118kb .zip
Published: September 4, 2013
previous versions

View the source code document attached to this resource

Two-Body Orbits JS Source Code
This source code zip archive contains an XML representation of The Two-Body Orbits JS Model. Unzip this archive in your Ejs workspace to compile and run this…
more...
download 53kb .zip
Last Modified: January 5, 2014
previous versions

View an example of this EJSS model

Two-Body Orbits Simulation
The Two-Body Orbits JavaScript Model shows the motion of two objects (e.g., binary star or moon-planet system) interacting via Newton's law of universal gravitation.
Subjects
Levels
Resource Types
Classical Mechanics

- Gravity

= Kepler's Laws

- Motion in Two Dimensions

Mathematical Tools

- Differential Equations

- Lower Undergraduate

- Middle School

- High School

- Upper Undergraduate

- Instructional Material

= Interactive Simulation
Intended Users
Formats
Ratings

- Learners

- Educators

- text/html

- application/zip

- application/javascript
Access Rights:

Free access

License:

This material is released under a Creative Commons Attribution-Noncommercial-No derivatives 3.0 license.

Rights Holder:

Wolfgang Christian

Record Cloner:

Metadata instance created September 4, 2013 by Wolfgang Christian

Record Updated:

January 5, 2014 by Wolfgang Christian

Last Update
when Cataloged:

September 4, 2013

Other Collections:



ComPADRE is beta testing Citation Styles!
Disclaimer
: ComPADRE offers citation styles as a guide only. We cannot offer interpretations about citations as this is an automated procedure. Please refer to the style manuals in the
Citation Source Information
area for clarifications.
Supplements
Contribute
Similar Materials