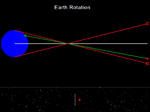 written by Todd Timberlake and Mario Belloni

The Astronomical Parallax 2D Javascript Model illustrates This simulation illustrates the phenomenon of parallax in astronomy. Parallax is the apparent displacement of an object relative to the background that is caused by the motion of the observer (rather than the motion of the object itself, or of the background). This simulation illustrates the parallax of an object in space that results from the Earth's rotational or orbital motions.

The simulation has two different modes. The default is an Earth Rotation Mode. In this mode the simulation illustrates the parallax caused by Earth's rotation on its axis. The other mode for the simulation is Earth Orbit Mode. In this mode the simulation illustrates the parallax caused by Earth's orbit around the Sun. Now the observer moves along Earth's orbital path (shown as a blue circle with the orange Sun in the center). The bottom window shows the apparent motion of the object being observed.

The Astronomical Parallax 2D JS Model was developed using the Easy Java Simulations (EJS) version 5. It is distributed as a ready-to-run html page and requires only a browser with JavaScript support.


download 112kb .zip
Published: September 2, 2013
previous versions

View the source code document attached to this resource

Astronomical Parallax 2D JS Model Source Code
Source Code for the Astronomical Parallax 2D JS Model program.
download 51kb .zip
Rights: This material is released under the
Creative Commons Attribution-Noncommercial-Share Alike 3.0
.
Published: September 2, 2013
previous versions
Subjects
Levels
Resource Types
Astronomy

- Astronomy Education

= Curricula

- Fundamentals

= Night Sky

- Lower Undergraduate

- High School

- Upper Undergraduate

- Instructional Material

= Interactive Simulation
Intended Users
Formats
Ratings

- Learners

- Educators

- application/javascript

- application/zip

- text/html
Access Rights:

Free access

License:

This material is released under a Creative Commons Attribution-Noncommercial-No derivatives 3.0 license.

Rights Holder:

Todd Timberlake and Mario Belloni

Keywords:

EJSS, OpenSurce Physics, Sun, javascript, parallax, star

Record Cloner:

Metadata instance created September 2, 2013 by Mario Belloni

Record Updated:

January 7, 2014 by Mario Belloni

Last Update
when Cataloged:

September 2, 2013

Other Collections:



ComPADRE is beta testing Citation Styles!
Disclaimer
: ComPADRE offers citation styles as a guide only. We cannot offer interpretations about citations as this is an automated procedure. Please refer to the style manuals in the
Citation Source Information
area for clarifications.
Astronomical Parallax 2D JS Model:
Covers the Same Topic As
Astronomical Parallax 2D
The Astronomical Parallax 2D JS Model is the Javascript version of the Java-based Astronomical Parallax 2D Model.
relation by Mario Belloni
---
Know of another related resource? Login to relate this resource to it.
Supplements
Contribute
Related Materials
Covers the Same Topic As
Similar Materials