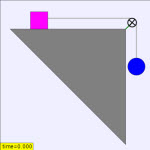 Half Atwood Machine JS Model
written by Wolfgang Christian

The Half-Atwood Machine JavaScript Model shows a mass on a table that is accelerated by a second hanging mass. This model was developed using EJS 5.


download 188kb .zip
Last Modified: September 30, 2014
previous versions

Ready-to-run example (1)

Half Atwood Machine Simulation
The Atwood machine (or Atwood's machine) was invented in 1784 by Rev. George Atwood as a laboratory experiment to verify the mechanical laws of motion with constant acceleration. Atwood's machine is a common classroom demonstration used to illustrate principles of classical mechanics.

View the source code document attached to this resource

Half Atwood Machine Source Code
This source code zip archive contains an XML representation of the Half Atwood Machine Model. Unzip this archive in your Ejs workspace to compile and run…
more...
download 22kb .zip
Last Modified: September 30, 2014
previous versions
Subjects
Levels
Resource Types
Classical Mechanics

- Motion in One Dimension

= Acceleration

= Position & Displacement

- Newton's Second Law

= Force, Acceleration

- Lower Undergraduate

- Instructional Material

= Simulation
Intended Users
Formats
Ratings

- Learners

- text/html

- application/zip

- application/javascript
Access Rights:

Free access

License:

This material is released under a Creative Commons Attribution-Noncommercial-No derivatives 3.0 license.

Rights Holder:

Wolfgang Christian

Record Creator:

Metadata instance created August 23, 2013 by Wolfgang Christian

Record Updated:

June 15, 2015 by Lyle Barbato

Other Collections:



ComPADRE is beta testing Citation Styles!
Disclaimer
: ComPADRE offers citation styles as a guide only. We cannot offer interpretations about citations as this is an automated procedure. Please refer to the style manuals in the
Citation Source Information
area for clarifications.
Half Atwood Machine JS Model:
---
Know of another related resource? Login to relate this resource to it.
Supplements
Contribute
Related Materials
Similar Materials