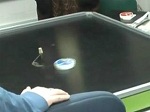 supported by the National Science Foundation
published by the Paradigms in Physics Program

This student activity is designed to help upper division undergraduate students work with central forces in classical mechanics. A hockey puck is tethered to the center of an air-hockey table, and the students observe the motion of the hockey puck, allowing them to observe the effects of central forces on the puck. Students are asked to plot the potential energy graph of the hockey puck. An instructor's guide is available to help guide the activity along with the student handout.

This material is part of the Paradigms in Physics project at Oregon State University. This work promotes the use of active student learning in upper division physics courses. Both learning materials and learning strategies are provided to help both students and instructors.

Subjects
Levels
Resource Types
Classical Mechanics

- Motion in Two Dimensions

= Central Forces

- Work and Energy

= Conservation of Energy

Education Practices

- Active Learning

- Instructional Material Design

= Activity

- Upper Undergraduate

- Instructional Material

= Activity

= Instructor Guide/Manual
Intended Users
Formats
Ratings

- Educators

- text/html

- application/pdf
Access Rights:

Free access

Restriction:

© 2008 Corinne Manogue, Pardigms in Physics Team


NSF Numbers:

Keywords:

Classical Mechanics, Paradigms, Small Group Activity, central forces, potential energy

Record Cloner:

Metadata instance created August 14, 2012 by Zachary Davis

Record Updated:

June 26, 2014 by Bruce Mason

Last Update
when Cataloged:

August 21, 2012

Other Collections:



ComPADRE is beta testing Citation Styles!
Disclaimer
: ComPADRE offers citation styles as a guide only. We cannot offer interpretations about citations as this is an automated procedure. Please refer to the style manuals in the
Citation Source Information
area for clarifications.
Paradigms in Physics: Central Forces on an Airtable:
Is Part Of
Paradigms in Physics
Central Forces on an Air Table is a Paradigms in Physics student activity for Classical Mechanics.
relation by Bruce Mason
---
Know of another related resource? Login to relate this resource to it.
Contribute
Related Materials
Is Part Of
Similar Materials