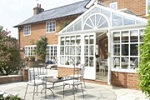 published by the Institute of Electrical and Electronics Engineers
supported by the International Business Machines

This is a 3-day unit for Grades 5-8 that explores principles of passive solar design as students work on teams to build a solar structure with four walls, four windows, two doors, and a roof. Learners must consider ventilation, materials choices, and orientation of the structure for optimal heat absorption. Principles of conduction, convection, and radiation are addressed in the lesson. After construction, students test their solar houses to determine how well they regulate temperature.

The lesson follows a module format that includes objectives and learner outcomes, problem sets, student guides, recommended reading, illustrated procedures, worksheets, and background information about the engineering connections. This collection is part of a website maintained by the Institute of Electrical and Electronics Engineers (IEEE).

Subjects
Levels
Resource Types
Classical Mechanics

- Work and Energy

= Conservation of Energy

Education Practices

- Active Learning

Electricity & Magnetism

- Electromagnetic Radiation

Other Sciences

- Engineering

Thermo & Stat Mech

- First Law

= Heat Transfer

- Middle School

- Elementary School

- Instructional Material

= Activity

= Instructor Guide/Manual

- Audio/Visual

= Image/Image Set
Intended Users
Formats
Ratings

- Educators

- Learners

- application/pdf

- application/ms-word

- text/html
Safety Warnings


Access Rights:

Free access

Restriction:

© 2010 Institute of Electrical and Electronics Engineers


Keywords:

applied physics, conduction, convection, engineering activity, engineering design, engineering lessons, heat, heating and air conditioning

Record Cloner:

Metadata instance created July 27, 2012 by Gnana Subramaniam

Record Updated:

March 16, 2015 by Caroline Hall

Last Update
when Cataloged:

December 4, 2010

Other Collections:



AAAS Benchmark Alignments (2008 Version)
1. The Nature of Science
1B. Scientific Inquiry
3-5: 1B/E1. Scientific investigations may take many different forms, including observing what things are like or what is happening somewhere, collecting specimens for analysis, and doing experiments.
3-5: 1B/E2b. One reason for following directions carefully and for keeping records of one's work is to provide information on what might have caused differences in investigations.
6-8: 1B/M1b. Scientific investigations usually involve the collection of relevant data, the use of logical reasoning, and the application of imagination in devising hypotheses and explanations to make sense of the collected data.
3. The Nature of Technology
3B. Design and Systems
3-5: 3B/E1. There is no perfect design. Designs that are best in one respect (safety or ease of use, for example) may be inferior in other ways (cost or appearance). Usually some features must be sacrificed to get others.
6-8: 3B/M1. Design usually requires taking into account not only physical and biological constraints, but also economic, political, social, ethical, and aesthetic ones.
6-8: 3B/M3a. Almost all control systems have inputs, outputs, and feedback.
6-8: 3B/M3bc. The essence of control is comparing information about what is happening to what people want to happen and then making appropriate adjustments. This procedure requires sensing information, processing it, and making changes.
4. The Physical Setting
4D. The Structure of Matter
3-5: 4D/E6. All materials have certain physical properties, such as strength, hardness, flexibility, durability, resistance to water and fire, and ease of conducting heat.
6-8: 4D/M9. Materials vary in how they respond to electric currents, magnetic forces, and visible light or other electromagnetic waves.
4E. Energy Transformations
3-5: 4E/E2b. When warmer things are put with cooler ones, heat is transferred from the warmer ones to the cooler ones.
3-5: 4E/E2c. A warmer object can warm a cooler one by contact or at a distance.
6-8: 4E/M3. Thermal energy is transferred through a material by the collisions of atoms within the material. Over time, the thermal energy tends to spread out through a material and from one material to another if they are in contact. Thermal energy can also be transferred by means of currents in air, water, or other fluids. In addition, some thermal energy in all materials is transformed into light energy and radiated into the environment by electromagnetic waves; that light energy can be transformed back into thermal energy when the electromagnetic waves strike another material. As a result, a material tends to cool down unless some other form of energy is converted to thermal energy in the material.
4F. Motion
3-5: 4F/E3. Light travels and tends to maintain its direction of motion until it interacts with an object or material. Light can be absorbed, redirected, bounced back, or allowed to pass through.
8. The Designed World
8C. Energy Sources and Use
6-8: 8C/M5. Energy from the sun (and the wind and water energy derived from it) is available indefinitely. Because the transfer of energy from these resources is weak and variable, systems are needed to collect and concentrate the energy.
12. Habits of Mind
12C. Manipulation and Observation
3-5: 12C/E1. Choose appropriate common materials for making simple mechanical constructions and repairing things.
3-5: 12C/E3. Keep written or electronic records of information so that the records are understandable weeks or months later.
12D. Communication Skills
3-5: 12D/E7. Write a clear and accurate description of a real-world object or event.
6-8: 12D/M1. Organize information in simple tables and graphs and identify relationships they reveal.
Common Core State Standards for Mathematics Alignments
Measurement and Data (K-5)
Represent and interpret data. (1-5)
3.MD.4 Generate measurement data by measuring lengths using rulers marked with halves and fourths of an inch. Show the data by making a line plot, where the horizontal scale is marked off in appropriate units— whole numbers, halves, or quarters.
Common Core State Writing Standards for Literacy in History/Social Studies, Science, and Technical Subjects 6—12
Text Types and Purposes (6-12)
2. Write informative/explanatory texts, including the narration of historical events, scientific procedures/ experiments, or technical processes. (WHST.6-8.2)
Research to Build and Present Knowledge (6-12)
WHST.6-8.7 Conduct short research projects to answer a question (including a self-generated question), drawing on several sources and generating additional related, focused questions that allow for multiple avenues of exploration.
ComPADRE is beta testing Citation Styles!
Disclaimer
: ComPADRE offers citation styles as a guide only. We cannot offer interpretations about citations as this is an automated procedure. Please refer to the style manuals in the
Citation Source Information
area for clarifications.
TryEngineering: Solar Structures:
---
Know of another related resource? Login to relate this resource to it.
Supplements
Contribute
Related Materials
Is Supplemented By Covers the Same Topic (Different Course Level) As Same topic as
Similar Materials
Featured By