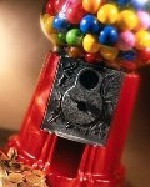 published by the Institute of Electrical and Electronics Engineers
supported by the International Business Machines

Students explore potential and kinetic energy in this two-part lesson module that integrates engineering design and physical science. Part I introduces the history of gumball machines and includes a short activity to build a very simple gumball slide. Part II gets more complex, as students work in teams to design and test an "interactive" gumball machine that meets constraints:
1) stay on a track, 2) have at least one loop, 3) be self-supporting, and 4) dispense a gumball. Allow 4 class periods to complete all activities.

The lesson follows a module format that includes objectives and learner outcomes, problem sets, student guides, recommended reading, illustrated procedures, worksheets, and background information about the engineering connections. The collection is maintained by the Institute of Electrical and Electronics Engineers (IEEE).

Subjects
Levels
Resource Types
Classical Mechanics

- Applications of Newton's Laws

= Friction

- Motion in Two Dimensions

= 2D Acceleration

- Newton's Second Law

= Interacting Objects

- Work and Energy

= Conservation of Energy

Education Practices

- Active Learning

Other Sciences

- Engineering

- High School

- Middle School

- Instructional Material

= Activity

= Instructor Guide/Manual
Intended Users
Formats
Ratings

- Learners

- Educators

- application/pdf

- application/ms-word

- text/html
Safety Warnings


Access Rights:

Free access

Restriction:

© 2009 Institute of Electrical and Electronics Engineers


Keywords:

applied physics, centripetal force, engineering design, engineering lessons, gravitational potential energy, manufacturing engineering, materials science, mechanical energy

Record Cloner:

Metadata instance created July 23, 2012 by Zachary Davis

Record Updated:

November 20, 2012 by Caroline Hall

Last Update
when Cataloged:

December 4, 2010

Other Collections:



AAAS Benchmark Alignments (2008 Version)
3. The Nature of Technology
3A. Technology and Science
6-8: 3A/M3. Engineers, architects, and others who engage in design and technology use scientific knowledge to solve practical problems. They also usually have to take human values and limitations into account.
9-12: 3A/H4. Engineers use knowledge of science and technology, together with strategies of design, to solve practical problems. Scientific knowledge provides a means of estimating what the behavior of things will be even before they are made. Moreover, science often suggests new kinds of behavior that had not even been imagined before, and so leads to new technologies.
3B. Design and Systems
6-8: 3B/M3a. Almost all control systems have inputs, outputs, and feedback.
6-8: 3B/M4a. Systems fail because they have faulty or poorly matched parts, are used in ways that exceed what was intended by the design, or were poorly designed to begin with.
6-8: 3B/M4b. The most common ways to prevent failure are pretesting of parts and procedures, overdesign, and redundancy.
4. The Physical Setting
4E. Energy Transformations
6-8: 4E/M4. Energy appears in different forms and can be transformed within a system. Motion energy is associated with the speed of an object. Thermal energy is associated with the temperature of an object. Gravitational energy is associated with the height of an object above a reference point. Elastic energy is associated with the stretching or compressing of an elastic object. Chemical energy is associated with the composition of a substance. Electrical energy is associated with an electric current in a circuit. Light energy is associated with the frequency of electromagnetic waves.
9-12: 4E/H1. Although the various forms of energy appear very different, each can be measured in a way that makes it possible to keep track of how much of one form is converted into another. Whenever the amount of energy in one place diminishes, the amount in other places or forms increases by the same amount.
9-12: 4E/H9. Many forms of energy can be considered to be either kinetic energy, which is the energy of motion, or potential energy, which depends on the separation between mutually attracting or repelling objects.
4F. Motion
6-8: 4F/M3a. An unbalanced force acting on an object changes its speed or direction of motion, or both.
6-8: 4F/M3b. If a force acts towards a single center, the object's path may curve into an orbit around the center.
9-12: 4F/H7. In most familiar situations, frictional forces complicate the description of motion, although the basic principles still apply.
8. The Designed World
8B. Materials and Manufacturing
6-8: 8B/M2. Manufacturing usually involves a series of steps, such as designing a product, obtaining and preparing raw materials, processing the materials mechanically or chemically, and assembling the product. All steps may occur at a single location or may occur at different locations.
11. Common Themes
11A. Systems
6-8: 11A/M2. Thinking about things as systems means looking for how every part relates to others. The output from one part of a system (which can include material, energy, or information) can become the input to other parts. Such feedback can serve to control what goes on in the system as a whole.
9-12: 11A/H1. A system usually has some properties that are different from those of its parts, but appear because of the interaction of those parts.
9-12: 11A/H2. Understanding how things work and designing solutions to problems of almost any kind can be facilitated by systems analysis. In defining a system, it is important to specify its boundaries and subsystems, indicate its relation to other systems, and identify what its input and output are expected to be.
9-12: 11A/H4. Even in some very simple systems, it may not always be possible to predict accurately the result of changing some part or connection.
12. Habits of Mind
12D. Communication Skills
6-8: 12D/M6. Present a brief scientific explanation orally or in writing that includes a claim and the evidence and reasoning that supports the claim.
ComPADRE is beta testing Citation Styles!
Disclaimer
: ComPADRE offers citation styles as a guide only. We cannot offer interpretations about citations as this is an automated procedure. Please refer to the style manuals in the
Citation Source Information
area for clarifications.
TryEngineering: Interactive Gumball Machine:
Same topic as
Teach Engineering: Physics of Roller Coasters
A two-day activity appropriate for students who already have a grounding in the basics of kinetic/potential energy and gravitational potential energy.
relation by Caroline Hall
---
Know of another related resource? Login to relate this resource to it.
Supplements
Contribute
Related Materials
Similar Materials
Featured By