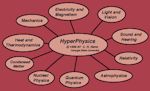 written by Carl Rod Nave

Hyperphysics is a broad-ranging interactive physics exploration environment that is written in HTML with Javascript calculation routines. The site provides a huge collection of capsule reviews of material covered in introductory physics. The subjects are linked in flow charts that make it easy to move from one topic to a related one. The site is under continuing development by Dr. Rod Nave of the Department of Physics and Astronomy, Georgia State University.

Subjects
Levels
Resource Types
General Physics

- Collections

- Lower Undergraduate

- High School

- Upper Undergraduate

- Instructional Material

= Student Guide

- Reference Material

Intended Users
Formats
Ratings

- Learners

- Educators

- text/html

- image/gif
Access Rights:

Free access

Restriction:

Has a copyright or other licensing restriction.

Keywords:

condensed matter, electricity, light, magnetism, mechanics, nuclear, quantum, relativity, sound, thermodynamics

Record Creator:

Date Metadata Instance was created May 28, 2003 by Waylon Flinn

Record Updated:

June 1, 2013 by Bruce Mason

Other Collections:



ComPADRE is beta testing Citation Styles!
Disclaimer
: ComPADRE offers citation styles as a guide only. We cannot offer interpretations about citations as this is an automated procedure. Please refer to the style manuals in the
Citation Source Information
area for clarifications.
Supplements
Contribute
Similar Materials
Featured By