Welcome to the Physics Front!
Here you can find teaching resources for your physics and physical science classes.
Login - Register to Participate
Our Top Picks
PhET HTML5 Simulations: Physics simulations on any device
Grade Level: K-16
Featured Resource


Understanding Car Crashes: It's Basic Physics
Completely turn-key resource for a unit on momentum and collision. Fascinating video plus four comprehensive classroom activities.
Technology Tools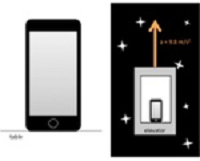 Mobile Device Models
Turn your smartphone into a robust tool for data collection! This resource provides 8 simulations that use a mobile device accelerometer to sense motion.

Teaching Modules
General Atomics Sciences: It's a Colorful Life
This multi-day inquiry-based module on light and color includes a wealth of teacher and student guides and information. Topics include absorption, emission, additive and subtractive color, color mixing along with several hands-on activities. This resource is appropriate for students in grades 8-12.