Welcome to the Physics Front!
Here you can find teaching resources for your physics and physical science classes.
Login - Register to Participate
Our Top Picks
PhET HTML5 Simulations: Physics simulations on any device
Grade Level: K-16
Featured Resource


Voice Science: Using Digital Tools to Explore Pitch and Amplitude
Interactive lesson blends a mobile phone oscilloscope app with a digital wave grapher to explore human voice patterns.
Technology Tools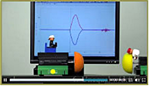 Interactive Video Vignettes
IVV combines video analysis and conceptual physics questions, each designed to promote understanding of difficult concepts.

Teaching Modules
Physics for the 21st Century: Gravity
In many ways the dominant force in the universe, gravity is also the weakest of the four forces known in nature. This multimedia module for high school explores gravity through video clips, animations, written text, and interactive tutorial.