Welcome to the Physics Front!
Here you can find teaching resources for your physics and physical science classes.
Login - Register to Participate
Our Top Picks
PhET HTML5 Simulations: Physics simulations on any device
Grade Level: K-16
Featured Resource


Understanding Car Crashes: It's Basic Physics
Completely turn-key resource for a unit on momentum and collision. Fascinating video plus four comprehensive classroom activities.
Technology Tools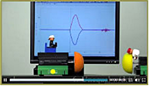 Interactive Video Vignettes
IVV combines video analysis and conceptual physics questions, each designed to promote understanding of difficult concepts.

Teaching Modules
General Atomics Sciences: It's a Colorful Life
This multi-day inquiry-based module on light and color includes a wealth of teacher and student guides and information. Topics include absorption, emission, additive and subtractive color, color mixing along with several hands-on activities. This resource is appropriate for students in grades 8-12.