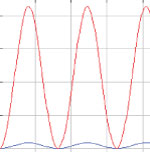 Physical Pendulum Energy
written by Mark Matlin

The Physical Pendulum Energy model shows the motion of of a physical pendulum (rod) and and the kinetic and potential energies of the parts of the rod above and below the rotation axis, as well as the total energies of those parts. The length of rod above the rotation axis, as well as the rod's mass, initial angle and initial angular velocity can be adjusted.

Please note that this resource requires at least version 1.5 of Java (JRE).


download 2103kb .jar
Last Modified: June 11, 2014
previous versions

1 source code document is available
Subjects
Levels
Resource Types
Classical Mechanics

- Rotational Dynamics

= Rotational Energy

- Lower Undergraduate

- Instructional Material

= Model
| Intended Users | Formats | Ratings |
| --- | --- | --- |
| - Learners | - application/java | |
Access Rights:

Free access

License:

This material is released under a GNU General Public License Version 3 license.

Rights Holder:

Mark Matlin

Record Creator:

Metadata instance created February 1, 2010 by Wolfgang Christian

Record Updated:

June 11, 2014 by Andreu Glasmann

Other Collections:



ComPADRE is beta testing Citation Styles!
Disclaimer
: ComPADRE offers citation styles as a guide only. We cannot offer interpretations about citations as this is an automated procedure. Please refer to the style manuals in the
Citation Source Information
area for clarifications.
Physical Pendulum Energy:
Supplements
Physlet Physics: Chapter 7: Energy
The Physical Pendulum Energy shows the potential and kinetic energies of a simple pendulum, supplementing the material covered in chapter 7 of Physlet Physics.
relation by Andreu Glasmann
---
Know of another related resource? Login to relate this resource to it.
Supplements
Contribute
Related Materials
Similar Materials