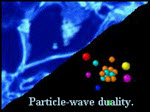 written by Kristel Michielsen and Hans De Raedt

This website contains a number of descriptions of quantum mechanical phenomena, using 3D animations to illustrate the physics. The goal is to introduce basic concepts and phenomena using simulations rather than complex mathematics. The time-dependence of quantum systems is a focus of this material.

Subjects
Levels
Resource Types
Quantum Physics

- General

- Upper Undergraduate

- Graduate/Professional

- Instructional Material

= Curriculum support

- Audio/Visual

= Movie/Animation
Intended Users
Formats
Ratings

- Learners

- text/html

- video/mpeg
Access Rights:

Limited free access
Cost for available CD Rom version

Restriction:

© 2000 Kristel Michielsen and Hans De Raedt


Keywords:

Aharonov-Bohm, Bosons, Fermions, Identical Particles, Interference, Stern-Gerlach, Time dependence, tunneling

Record Creator:

Metadata instance created February 13, 2004 by Bruce Mason

Record Updated:

July 13, 2016 by Bruce Mason

Other Collections:



ComPADRE is beta testing Citation Styles!
Disclaimer
: ComPADRE offers citation styles as a guide only. We cannot offer interpretations about citations as this is an automated procedure. Please refer to the style manuals in the
Citation Source Information
area for clarifications.
Contribute
Related Materials
Contains Contains Contains
Similar Materials
Featured By