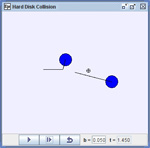 Ejs Hard Disk Collision Model
written by Wolfgang Christian

The Ejs Hard Disk Collision model displays a two-dimensional collision between two hard disks. The two disks have the same mass and only one mass is moving at the beginning of the simulation. The impact of the collision is offset by the impact parameter, b, which can be changed. The center-of-mass of the two masses is also shown. You can modify this simulation if you have Ejs installed by right-clicking within the plot and selecting "Open Ejs Model" from the pop-up menu item.

Ejs Hard Disk Collision model was created using the Easy Java Simulations (Ejs) modeling tool. It is distributed as a ready-to-run (compiled) Java archive. Double clicking the ejs_newton_HardDiskCollision.jar file will run the program if Java is installed. Ejs is a part of the Open Source Physics Project and is designed to make it easier to access, modify, and generate computer models. Additional Ejs models for Newtonian mechanics are available. They can be found by searching ComPADRE for Open Source Physics, OSP, or Ejs.

Please note that this resource requires at least version 1.5 of Java (JRE).


download 1323kb .jar
Last Modified: June 5, 2014
previous versions
Subjects
Levels
Resource Types
Classical Mechanics

- Linear Momentum

= Collisions in Two Dimensions

= Conservation of Linear Momentum

- Motion in Two Dimensions

= Center of Mass

- Lower Undergraduate

- Instructional Material

= Activity
Intended Users
Formats
Ratings

- Learners

- Professional/Practitioners

- Educators

- application/java
Access Rights:

Free access

Restriction:

© 2008 Wolfgang Christian
Additional information is available.

Keywords:

Easy Java Simulations, Ejs, OSP, Open Source Physics, center of mass, classical mechanics, collision, conservation of momentum, modeling

Record Creator:

Metadata instance created July 5, 2008 by Mario Belloni

Record Updated:

June 5, 2014 by Andreu Glasmann

Last Update
when Cataloged:

July 1, 2008

Other Collections:



ComPADRE is beta testing Citation Styles!
Disclaimer
: ComPADRE offers citation styles as a guide only. We cannot offer interpretations about citations as this is an automated procedure. Please refer to the style manuals in the
Citation Source Information
area for clarifications.
Ejs Hard Disk Collision Model:
---
Know of another related resource? Login to relate this resource to it.
Contribute
Related Materials
Similar Materials