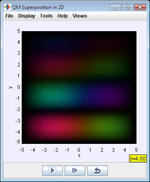 QM Superposition 2D Program
written by Wolfgang Christian

The QM Superposition 2D program displays the time evolution of the two-dimensional position-space wave function using color to represent its phase. The default wave function is a two-state superposition in the x (nx = 1,2) and y dimension (ny = 3,4) state in an infinite square well. Additional states and other potential energy functions can be specified using the Display | Switch GUI menu item.

QM Superposition 2D is one of 18 Open Source Physics programs that model time-dependent quantum mechanics using an energy eigenstate expansion. It is distributed as a ready-to-run (compiled) Java archive. Double clicking the qm_superposition_2d.jar file will run the program if Java is installed. Other programs provide additional visualizations. They can be found by searching ComPADRE for Open Source Physics, OSP, or Superposition.

Please note that this resource requires at least version 1.5 of Java.


download 646kb .jar
Last Modified: May 18, 2008
Subjects
Levels
Resource Types
Quantum Physics

- Bound State Systems

- General

- Upper Undergraduate

- Graduate/Professional

- Lower Undergraduate

- Instructional Material

= Activity
Intended Users
Formats
Ratings

- Learners

- Professional/Practitioners

- Educators

- application/java
Access Rights:

Free access

Restriction:

© 2008 Wolfgang Christian
Additional information is available.

PACSs:

01.50.hv
03.65.-w
07.05.Tp

Keywords:

OSP, Open Source Physics, energy eigenstates, quantum mechanics, superposition, two dimensional, two dimensions

Record Creator:

Metadata instance created May 18, 2008 by Mario Belloni

Record Updated:

May 18, 2008 by Mario Belloni

Last Update
when Cataloged:

May 1, 2008

Other Collections:



ComPADRE is beta testing Citation Styles!
Disclaimer
: ComPADRE offers citation styles as a guide only. We cannot offer interpretations about citations as this is an automated procedure. Please refer to the style manuals in the
Citation Source Information
area for clarifications.
Supplements
Contribute
Similar Materials