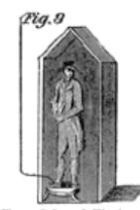 Ben Franklin as my Lab Partner: Describing the Lightning Rod Experiment
written by Robert Morse
published by the Wright Center for Science Education Tufts University

This lab manual describes Franklin's thoughts on the electrical nature of lightening and the use of lightening rods. It includes descriptions of historical experiments and studies and electrostatic experiments with simple and inexpensive generators and Leyden jars.


download 384kb .pdf
Published: September 1, 2004
previous versions
Subjects
Levels
Resource Types
Electricity & Magnetism

- Electrostatics

General Physics

- History

- Middle School

- High School

- Instructional Material

= Activity

- Reference Material

| Intended Users | Formats | Ratings |
| --- | --- | --- |
| - Learners | - application/pdf | |
Access Rights:

Free access

Restriction:

© 2004 Wright Center for Science Eduction


Keywords:

Electric Charge, Electric field, Electricity Lab, Franklin writings, electrostatics, history of physics, lightning

Record Cloner:

Metadata instance created March 2, 2006 by Amin Parnian

Record Updated:

January 9, 2012 by Lyle Barbato

Last Update
when Cataloged:

February 1, 2006

Other Collections:



ComPADRE is beta testing Citation Styles!
Disclaimer
: ComPADRE offers citation styles as a guide only. We cannot offer interpretations about citations as this is an automated procedure. Please refer to the style manuals in the
Citation Source Information
area for clarifications.
Ben Franklin as my Lab Partner: Describing the Lightning Rod Experiment :
---
Know of another related resource? Login to relate this resource to it.
Supplements
Contribute
Related Materials
Similar Materials