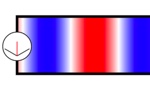 Faraday's Law JS Model
written by Wolfgang Christian

The Faraday's Law JavaScript Model shows how a changing magnetic flux creates an electromotive force (an emf), -dφ/dt = emf. The magnetic flux φ is a measure of the amount of magnetic field flowing perpendicularly through an area and the emf is the voltage that is observed along the area's perimeter. The flux φ is given by B• A for a uniform magnetic field and constant area.

The Faraday's Law JavaScript Model was developed using the Easy Java/JavaScript Simulations (EjsS) modeling tool. You can modify this simulation if you have Easy Java/JavaScript Simulations (EjsS) version 5.2 or above installed by downloading and importing the zip file into EjsS.


download 242kb .zip
Published: May 20, 2016

1 source code document is available
Subjects
Levels
Resource Types
Electricity & Magnetism

- Electromagnetic Induction

= Induced Currents and Forces

General Physics

- Computational Physics

- Lower Undergraduate

- Upper Undergraduate

- Instructional Material

= Simulation
Intended Users
Formats
Ratings

- Learners

- Educators

- application/javascript

- text/html

- application/zip
Access Rights:

Free access

License:

This material is released under a Creative Commons Attribution-Noncommercial-Share Alike 3.0 license.

Rights Holder:

Wolfgang Christian

PACSs:

01.50.hv
07.05.Tp

Keywords:

Ejs, OSP, computational modeling

Record Cloner:

Metadata instance created May 20, 2016 by Wolfgang Christian

Record Updated:

June 20, 2016 by Bruce Mason

Last Update
when Cataloged:

May 20, 2016

Other Collections:



ComPADRE is beta testing Citation Styles!
Disclaimer
: ComPADRE offers citation styles as a guide only. We cannot offer interpretations about citations as this is an automated procedure. Please refer to the style manuals in the
Citation Source Information
area for clarifications.
Contribute
Related Materials
Similar Materials