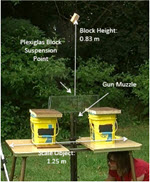 written by Robert Teese, Priscilla W. Laws, David Jackson, Kathleen M. Koenig, Maxine Willis, and Derek Muller

This interactive video tutorial allows students to explore concepts of momentum conservation and energy conservation. This vignette shows that when a suspended block of wood is shot from below with a .22 rifle bullet, the bullet embeds in the block which then rises straight up to a distance of just under a meter. Then, if the block is shot off-center and given a noticeable amount of rotational energy, it still rises to the same height as in the previous example. Careful analysis shows that the block behaves according to the laws of physics.
This vignette was studied and found to have a significant effect on learning. See
Research Outcomes
for details.

1 primary supplement is available
Subjects
Levels
Resource Types
Classical Mechanics

- Linear Momentum

= Conservation of Linear Momentum

- Rotational Dynamics

= Rotational Energy

- Work and Energy

= Conservation of Energy

Education Practices

- Technology

= Multimedia

- Lower Undergraduate

- High School

- Instructional Material

= Tutorial

- Audio/Visual

= Movie/Animation
Intended Users
Formats
Ratings

- Learners

- Educators

- video/mp4

- text/html
Access Rights:

Free access

License:

This material is released under a Creative Commons Attribution-Noncommercial-Share Alike 3.0 license.

Rights Holder:

Dickinson College, Rochester Institute of Technology

Merlot:

pending

NSF Numbers:

Keywords:

IVV, inelastic collision, kinetic energy, momentum conservation, potential energy, video analysis

Record Cloner:

Metadata instance created July 24, 2014 by Bruce Mason

Record Updated:

June 23, 2015 by Bruce Mason

Last Update
when Cataloged:

July 24, 2014

Other Collections:



ComPADRE is beta testing Citation Styles!
Disclaimer
: ComPADRE offers citation styles as a guide only. We cannot offer interpretations about citations as this is an automated procedure. Please refer to the style manuals in the
Citation Source Information
area for clarifications.
Interactive Video Vignettes: Bullet in a Block:
---
Know of another related resource? Login to relate this resource to it.
Contribute
Related Materials
Is Part Of
Similar Materials