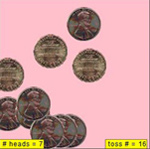 Multiple Coin Toss JS Model
written by Wolfgang Christian and Mario Belloni

The EJS Multiple Coin Toss JS Model displays the result of the flipping of 10 coins. The result of each set of coin flips is shown by the image of the pennies on the screen and the complete results of the tossing experiment is shown on a graph of the average of the number of heads. Click the "Show Large Graph" checkbox to enlarge the graph and shrink the panel with the flipping pennies.


Multiple Coin Toss JS Model
download 154kb .zip
Published: January 3, 2014
previous versions
Multiple Coin Toss EPUB
An EPUB file containing the Multiple Coin Toss simulation,
a general description, and the features of the simulation.
download 205kb .epub
Published: June 27, 2014

1 source code document is available
Subjects
Levels
Resource Types
Mathematical Tools

- Probability

Other Sciences

- Mathematics

- Lower Undergraduate

- High School

- Instructional Material

= Interactive Simulation
Intended Users
Formats
Ratings

- Learners

- Educators

- application/zip

- text/html

- application/javascript
Access Rights:

Free access

License:

This material is released under a Creative Commons Attribution-Noncommercial-No derivatives 3.0 license.

Rights Holder:

Wolfgang Christian and Mario Belloni

Keywords:

EJSS, OpenSource Physics, coin, javascript, penny, probability, toss

Record Cloner:

Metadata instance created January 3, 2014 by Mario Belloni

Record Updated:

July 28, 2018 by Wolfgang Christian

Last Update
when Cataloged:

January 3, 2014

Other Collections:



ComPADRE is beta testing Citation Styles!
Disclaimer
: ComPADRE offers citation styles as a guide only. We cannot offer interpretations about citations as this is an automated procedure. Please refer to the style manuals in the
Citation Source Information
area for clarifications.
This resource and its subdocuments is stored in 4 shared folders.
You must login to access shared folders.
Supplements
Contribute
Related Materials
Similar Materials