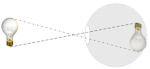 written by Dyan L. McBride
supported by the National Science Foundation

This learning activity teaches the basics of human vision. It covers the topics of basic optics, the structure of the eye, and the effects of the accommodation lens within the eye. It explains how corrective lenses in glasses correct basic vision problems. This activity serves as an opening for more advanced material on aberrometry. An instructor's guide for this activity is available from the Modern Miracle Medical Machines web home page.

This one of a growing set of activities developed by the Kansas State University Physics Education Research group on the physics of modern medicine.

Subjects
Levels
Resource Types
Education Practices

- Active Learning

Optics

- Geometrical Optics

= Optical Instruments

- The Eye

- Lower Undergraduate

- High School

- Instructional Material

= Activity
Intended Users
Formats
Ratings

- Learners

- Educators

- application/pdf
Access Rights:

Free access

Restriction:

© 2010 Kansas State University


NSF Number:

Keywords:

IPLS, applied physics, biophysics, cornea, medical physics, medicine, pre med, pre-med, pre-medical, retina

Record Cloner:

Metadata instance created June 8, 2010 by Bruce Mason

Record Updated:

August 2, 2016 by Lyle Barbato

Last Update
when Cataloged:

June 6, 2010

Other Collections:



ComPADRE is beta testing Citation Styles!
Disclaimer
: ComPADRE offers citation styles as a guide only. We cannot offer interpretations about citations as this is an automated procedure. Please refer to the style manuals in the
Citation Source Information
area for clarifications.
Modern Miracle Medical Machines: The Human Eye and Vision:
---
Know of another related resource? Login to relate this resource to it.
Supplements
Contribute
Related Materials
Similar Materials