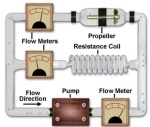 written by Michael Davidson
supported by the National Science Foundation
technical implementer: Matthew J. Parry-Hill
edited by Kristen Coyne

This item is a Java simulation that illustrates the "water-flow model" of simple electrical circuit. The circuit is made up of a pump (the battery) and two parallel branches. One of the branches includes a resistance coil, the other a propeller. Users can control the flow rate of water.

This item is part of Mag Lab U. Which is a large collection of web-based educational materials for K-20, developed by the National High Magnetic Field Laboratory at Florida State University. Refer to "related materials" for full index of interactive Java tutorials.

Please note that this resource requires Java Applet Plug-in.

Subjects
Levels
Resource Types
Electricity & Magnetism

- DC Circuits

- High School

- Lower Undergraduate

- Middle School

- Instructional Material

= Interactive Simulation
Intended Users
Formats
Ratings

- Learners

- Educators

- General Publics

- application/java

- text/html
Access Rights:

Free access

Restriction:

© 2006 http://micro.magnet.fsu.edu/micro/legal.html


Keywords:

current, flow, meter, model, parallel, potential difference, propeller, pump, resistance, resistance coil, voltage, water

Record Cloner:

Metadata instance created May 12, 2010 by Caroline Hall

Record Updated:

February 5, 2015 by Caroline Hall

Last Update
when Cataloged:

February 6, 2008

Other Collections:



ComPADRE is beta testing Citation Styles!
Disclaimer
: ComPADRE offers citation styles as a guide only. We cannot offer interpretations about citations as this is an automated procedure. Please refer to the style manuals in the
Citation Source Information
area for clarifications.
Mag Lab U: Interactive Tutorials - Current Flow:
Is Part Of
Magnet Academy: Interactive Tutorials
A link to the full index of 60+ Java tutorials developed by Mag Lab U. The simulations range in complexity from very simple to advanced.
relation by Caroline Hall
---
Know of another related resource? Login to relate this resource to it.
Supplements
Contribute
Related Materials
Similar Materials