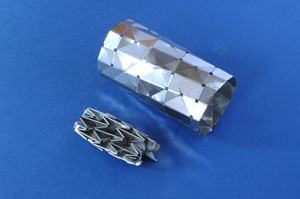 image credit: Zhong You and Kaori Kuribayashi; image source: image not available online; larger image
This photo shows a stent, a small metal cylinder inserted into a diseased artery to open it up. To be inserted, the device must be collapsed, and origami folding provides a way to do that. The stent is shown in the photo above, both folded and unfolded.

Airbags are folded carefully to fit into small volumes inside an automobile. To find out how the mathematics of origami produces the folding design, visit Airbag Folding.

For a short National Geographic article on origami applications, see Fold Everything.
Exploratorium Magazine Online: Exploring Origami
Check out Exploratorium Magazine Online: Exploring Origami to learn about recent advances in the art of origami. Don't miss the video of folding interlocking rings out of one sheet of paper. Also, you'll find out how the paper crane became a symbol of peace in Japan.