Job Info
Employer:
Arizona State University - ASU
Position Type:
Education
Research
Writing
Job skills:
Complex problem solving
Synthesizing information
Mathematical skills
Lab or instrumentation skills
Knowledge of physics principles
Modeling or simulation
Data analysis
Communication
Team work
Lawrence Krauss' Job:
Krauss is currently a professor within Arizona State's School of Earth and Space Exploration and Physics Department, and also is the Director of the university's Origin Initiative. The initiative strives to study the origin of the universe, of life on earth, human conciseness, and similar origin topics.
My Previous Jobs:
Krauss is an active member of the Physics community, and serves as one of it's ambassadors to popular culture. He has written several books on physics for a general audience, including "The Physics of Star Trek" and "Atom: A Single Oxygen Atom's Journey from the Big Bang to Life on Earth...and Beyond." He appears frequently on Television and Radio programs, and has contributed articles to the New York Times. He has also worked with the arts, narrating 'The Planets, ' an orchastral suit by English composer Gustav Holst, and was once a member of the Sundance Film Festival's jury.

(Some information taken from Krauss' biography at http://krauss.faculty.asu.edu/bio.html)
Career Facts
Employer Type:
School/Academia
Current Location:
Phoenix, AZ
Physics Degree:
Doctorate
Educational Information
B.Sc. in Physics and Math from Carleton University, Canada
Ph.D. in Physics from the Massachusetts Institute of Technology
More about Lawrence Krauss
Lawrence Krauss' other interests:
Krauss enjoys fishing, mountaing biking, scuba diving, and is a fan of the Cleveland Indians.
Lawrence Krauss' home page:
http://krauss.faculty.asu.edu/
Direct link to Lawrence Krauss' profile:
http://www.physicscentral.com/explore/people/krauss.cfm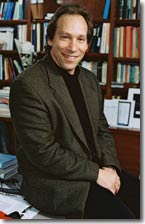 Biography:
Born in New York City, Lawrence Krauss moved to Toronto with his family as a child. He enjoyed living in Canada, and in high school he was a volunteer at the Ontario Science Center. He later went to attend Carleton University in Ottawa, the capitol, where he was able to skate to class along the Rideau Canal, the worlds largest skating canal. After graduating with honours in Math and Physics, he earned his Ph.D. from M.I.T.