Job Info
Employer:
Princeton Plasma Physics Labratory - PPPL
Employer Home Page:
http://science-education.pppl.gov/staff.htm
Position Type:
Education
Job skills:
Mathematical skills
Lab or instrumentation skills
Knowledge of physics principles
Communication
Team work
Andrew Post-Zwicker's Job:
Post-Zwicker works is the director of science education at the Princeton Plasma Physics Laboratory in Princeton New Jersey. The laboratory is dedicated to learning more about the nature of plasma, the fourth element of matter that makes up most of the matter in the universe. As the director of science education, he meets with teachers and students from local high schools and elementary schools to teach them about plasmas.

In addition to teaching, he also continues to do research with plasmas, but with a twist. Instead of using graduate students and postdocs for lab help, he uses undergraduates and high school students in order to expose them to the science.
My Previous Jobs:
Before his job at the PPPL, Post-Zwicker did work at the Oak Ridge National Laboratory in Julich, Germany, which is dedicated to fusion.
Career Facts
Employer Type:
School/Academia
Current Location:
Princeton, NJ
Physics Degree:
Doctorate
Educational Information
Undergraduate degree from Bard College
Ph.D. from Johns Hopkins University
More about Andrew Post-Zwicker
Direct link to Andrew Post-Zwicker's profile:
http://www.physicscentral.com/explore/people/post.cfm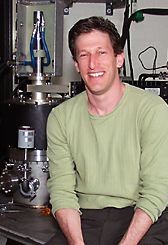 Biography:
Andrew Post-Zwicker was not sure whether he wanted to study math or engineering at Bard College, in Annandale-on-Hudson, New York. But one of his professors took him under his wing and introduced Andrew to physics. He did well in his physics classes, and moved on to Johns Hopkins University for his graduate work in Plasma, after which he did postdoctoral research at the Oak Ridge National Laboratory in Germany.

But Andrew found that he was having a hard time sitting in front of computers all day, and became frustrated with his field--until he had what he calls the "life changing experience" of taking on a struggling urban high school student. The girl's school system had not been helping her achieve her potential, "She was way behind her peers in terms of what she knew, " says Andrew, "but way ahead in focus, maturity, and ambition." Andrew helped her get into a private school on a scholarship (she proceeded to go on to medical school). This experience ignited his love of teaching--which he often accomplishes through direct involvement of undergraduates and high school students in his plasma research! Andrew's passion for--and dedication to--teaching is clear. "I've got the best job. No one can top my job, " he says.