What Are Those Squiggly Lines? Using Light to Learn about the Universe
This 8-part web-based tutorial was developed to make the concepts of light and astronomical spectroscopy understandable at the high school level. Created by the Johns Hopkins Department of Physics and Astronomy, it offers background information on the basics of light, photometry and spectroscopy, the electromagnetic spectrum, units of measurement in modern astronomy, spectroscopy in space, and more.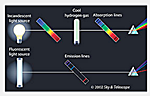 Sky and Telescope Magazine: The Spectral Types of Stars
This free-access magazine article offers a very good synopsis of the history of astronomical classification of stars through use of spectral data, beginning in 1802 with William Wollaston's experimentation passing sunlight through a thin slit. It progresses through 19th century breakthroughs: invention of the spectroscope and classification systems for stellar spectra. Finally, it discusses the development of the Hertzsprung-Russell Diagram tool. Great way to integrate NGSS "Nature of Science" standards into your unit.