Events
Recordings of Past Conferences and Workshops
2021 Capstone Conference


2020 Virtual Conference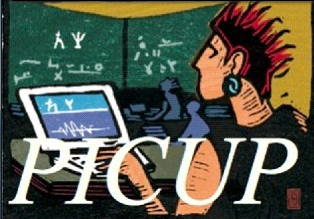 2020 Virtual Workshop


Upcoming Events
October 2022
PICUP Fall Webinar Series: Using Computing in Physics at the Molecular and Cellular Level (P@MCL)
Speaker: Lisa Lapidus, Michigan State University
Date & Time: Wednesday, October 5th at 7pm Eastern / 6pm Central / 5pm Mountain /4pm Pacific
Zoom Link: https://csuchico.zoom.us/j/82783413950?pwd=RE5XZXJQN0dEa0RWNWFQa0prbURQdz09

In 2016, Michigan State University began a pilot of a new curriculum of introductory physics for life scientists. Because biology-related applications on the macroscale are complex and require mathematics beyond introductory calculus, the focus is entirely on applications from molecular and cellular biology, which are amenable to computing. The curriculum is designed around two main themes, diffusion and electric dipoles. In this talk I shall discuss how diffusion is explored as an emergent phenomenon of elastic collisions by building from one to many balls in a box. Extending the simulations to realistic force fields also illuminates bound states. These simulations provide the framework for introducing entropy from the perspective of statistical mechanics. They also mirror molecular dynamics simulations regularly used by computational biologists to study real phenomena such as protein folding and function.

Attention everyone: If you're unable to make it to the live event, it will be recorded.
Past Events
Joint PICUP/ALPhA Webinar:
Coupled Modes of Oscillators and Instruction: Combining Theory, Computation, and Experiment in Junior-level Mechanics
Wednesday, March 30, 2022

View the recording here.

PICUP Spring Webinar Series: The Unveiling of the PICUP Capstone Report
Wednesday, May 11, 2022

View the recording here.

PICUP Spring Webinar Series: Computation in Introductory Physics at KU
Wednesday, April 27, 2022

View the recording here.

PICUP Workshop at the 2022 Spring ISAAPT Meeting

, Illinois State University


Integrating Computation into Introductory Physics Courses, Friday, April 8, 2022

Joint PICUP/ALPhA Webinar:
Coupled Modes of Oscillators and Instruction: Combining Theory, Computation, and Experiment in Junior-level Mechanics
Wednesday, March 30, 2022

View the recording here.

PICUP Spring Webinar Series: Quantum Mechanics and Data Science for HS Physics
Wednesday, February 16, 2022

View the recording here.

PICUP Fall Webinar Series: Hidden Gems of the PICUP Collection
Tuesday, December 7, 2021

View the recording here.

PICUP Fall Webinar Series: Integrating Computation Across the Curriculum at IUPUI
Thursday, October 28, 2021

View the recording here.

PICUP Fall Webinar Series: A Beginner's Guide to PICUP
Wednesday, September 29, 2021

View the recording here.

PICUP Virtual Capstone Conference


August 11-13, 2021

PICUP Summer 2021 Virtual Workshop


Tuesday, July 20 - Thursday, July 22, 2021

PICUP Spring Webinar Series:
Physics for Tomorrow: Contemporary Enhancements to the Undergraduate Physics Curriculum
Tuesday, June 1, 2021

View the recording here.

PICUP Spring Webinar Series: The Future of Remote Learning in Physics
Co-sponsored by the AAPT Committee on Educational Technologies

Tuesday, May 18, 2021

Workshop on Assessment in Computational Physics
Hosted by Tim Atherton, Tufts University and Alexis Knaub, AAPT

Saturday, April 17, 2021

PICUP Spring Webinar Series: Computational Thinking in K-16 STEM Education
Thursday, February 25, 2021

View the recording here.

PICUP Spring Webinar Series: Computation in Undergrad Physics with an Emphasis on Using MATLAB
Thursday, January 28, 2021

If you missed the live event, you can view the recording here.

AAPT Virtual Coffee Hour - hosted by Larry Engelhardt and Marie Lopez del Puerto from PICUP! (online via zoom.us)

Tuesday, December 15, 2020

Jupyter Notebooks Workshop
Wednesday, September 9


Watch the workshop video recording: https://youtu.be/MRuR4XSmmow

p5.js Workshops
Monday, September 7 AND Saturday, September 12


Watch the workshop video recording: https://osu.zoom.us/rec/share/bF2_GMrwhMCQpzCN3c2OlXccYzPs-Iv8YK0EOwQromC5sUFuS_lsX7baKUzXL7dl.BcpmIlXf0jVMnYmf?startTime=1599927240000

Spyder Workshop
Thursday, September 3

GlowScript Workshop
Wednesday, September 2


Follow this link for a useful and detailed summary of the GlowScript workshop: GlowScript Workshop Summary

Octave/MATLAB Workshop
Tuesday, September 1

Watch the workshop video recording: https://youtu.be/7qFRNeZq6kk

Spreadsheets Workshop
Monday, August 31

Watch the workshop video recording: https://youtu.be/7qFRNeZq6kk

PICUP Back-to-School Webinar: Tools of the Trade
Wednesday, August 12th

In case you missed it, you can view the recording.

PICUP Summer 2020 Virtual Workshop


Tuesday, July 14 - Thursday, July 16, 2020

PICUP Virtual Conference: Tips, Tricks, and Best Practices for Teaching Physics Online
Friday, June 26 and Wednesday, July 1, 2020


Follow the link above for recorded presentations.

PICUP Spring Webinar Series: Online Trajectories
Thursday, May 21, 2020


In case you missed it, you can view the recording.

PICUP Spring Webinar Series: Our transition to virtual instruction: Failure Modes for Online Physics (online via zoom.us)

Wednesday, April 29, 2020

In case you missed it, you can view the recording.

PICUP Spring Webinar Series: Our transition to virtual instruction: How are we doing so far? (online via zoom.us)

Thursday, April 2, 2020

The recording is available for your viewing pleasure.

PICUP Spring Webinar Series: Why Integrate Computation? (online via zoom.us)

Tuesday, March 10, 2020

PICUP Workshop at the 2020 Winter AAPT Meeting, Rollins College


Integrating Computation into Upper-Level Physics, Sunday, January 19, 2020

PICUP Workshop at the 2020 Winter AAPT Meeting, Rollins College


Integrating Computation into Introductory Physics, Saturday, January 18, 2020

PICUP Community Synchronous Meeting (online via zoom.us)

Monday, December 9, 2019 (The Good, the Bad, and the Computational: A Discussion on Your Integration of Computation This Semester)

Special PICUP Community Synchronous Meeting (online via zoom.us)

Friday, December 6, 2019 (ACM SIGHPC Education Chapter Webinar on Incorporating Computation in the Physics Curriculum, Featuring Robert Panoff (Shodor Education Foundation) and Kelly Roos (Bradley U. / PICUP)

Special PICUP Community Synchronous Meeting (online via zoom.us)

Thursday, November 14, 2019 (ACM SIGHPC Education Chapter Webinar on Incorporating Computation in the Physics Curriculum, Featuring Larry Engelhardt (Francis Marion U. Physics) and Richard Gass (U. Cincinnati Physics)

PICUP Community Synchronous Meeting (online via zoom.us)

Wednesday, October 23, 2019 (Integrating computation into your non-computational class)

Workshop: Teaching Computational Thinking Skills with MATLAB (sponsored by Mathworks)

October 20-22, 2019, Carleton College, Northfield, MN

PICUP Community Synchronous Meeting (online via zoom.us)

Tuesday, October 1, 2019 (Plugging computation into upper-division physics courses without turning the class into a numerical methods course)

Greater Chicagoland PICUP Workshop
Friday, September 20 - Saturday, September 21, 2019; Lewis University, Romeoville, IL

Workshop schedule.

PICUP Exercise Sets "Review-A-Thon" at the 2019 AAPT Summer Meeting, Utah Valley University


Orientation for new reviewers, and review session for PICUP peer-reviewed repository, Sunday, July 21, 2019

PICUP Workshop at the 2019 AAPT Summer Meeting, Utah Valley University


A Primer on Computing with Python, Sunday, July 21, 2019

PICUP Workshop at the 2019 AAPT Summer Meeting, Brigham Young University


Integrating Computation into Introductory Courses, Saturday, July 20, 2019

2019 PICUP Faculty Development Workshop at UW River Falls and Special PICUP/ALPhA Immersion!

Monday, July 8 - Sunday, July 14, 2019 | Schedule for the week at River Falls

K-State PICUP Workshop


Saturday, April 27, 2019, Kansas State University Department of Physics

PICUP Workshop at the APS April Meeting


Saturday, April 13, 2019, Denver, CO

PICUP Workshop at the 2019 AAPT Winter Meeting, University of Houston


Integrating Computation into Upper Level Courses, Sunday, January 13, 2019

PICUP Workshop at the 2019 AAPT Winter Meeting, University of Houston


Integrating Computation into Introductory Courses, Saturday, January 12, 2019

PICUP Holiday Meeting (online via zoom.us)

Thursday, December 20, 2018 (General check-in about the semester and open discussion)

PICUP Community December Meeting (online via zoom.us)

Tuesday, December 4, 2018 (PICUP Editorial & Review Process)

PICUP Community October Meeting (online via zoom.us)

Tuesday, October 30, 2018 (Unique and Interesting Undergraduate-accessible Computational Problems)

PICUP Workshop at the 2018 Annual Meeting of the Far West Section of the American Physical Society


October 19, 2018, California State University at Fullerton, Fullerton, CA

Workshop: Teaching Computation in the Sciences Using MATLAB (sponsored by Mathworks)

October 14-16, 2018, Carleton College, Northfield, MN

PICUP Workshop at the Fall 2018 Meeting of the Southern Atlantic Coast Section of the AAPT

October 13, 2018, Clemson University, Clemson, SC

PICUP Community September Meeting (online via zoom.us)

Thursday, September 27 2018 (PICUP Editor's Meeting and Peer Review Q&A)

Greater Chicagoland PICUP Workshop
Saturday, September 29, 2018, 9:00am-4:00pm CDT, Lewis University, Romeoville, IL

Workshop schedule.

PICUP Workshop at the 2018 AAPT Summer Meeting, The George Washington University, Washington, DC

Sunday, July 29, 2018

2018 PICUP Faculty Development Workshop at UW River Falls

Saturday, July 14 - Friday, July 20, 2018 | Schedule for the week at River Falls

Advanced Laboratory Physics Association (ALPha) Conference on Laboratory Instruction Beyond the First Year of College III (BFYIII) - 3D Physics: Integrating Experiment, Theory, and Computation

Wednesday, July 25 - Friday, July 27, 2018, Loyola University-Maryland, Baltimore, MD

PICUP Community July Meeting (online via zoom.us)

Monday, July 9, 2018 (What to expect for your upcoming PICUP workshop)

PICUP Departmental Development Workshop at IUPUI, Indianapolis, IN

Saturday, April 28, 2018

PICUP Workshop at the Spring 2018 Meeting of the Southern Atlantic Coast Section of AAPT

Saturday, March 3, 2018

PICUP Community February Meeting (online via zoom.us)

Tuesday, February 27, 2018 (Special Guest Todd Zimmerman, Department of Chemistry and Physics, UW-Stout)

PICUP Community January Meeting (online via zoom.us)

Monday, January 29, 2018 (Special Guest Michelle Kuchera, Department of Physics, Davidson College)

PICUP Workshop at the 2018 AAPT Winter Meeting, University of San Diego, San Diego, CA

Sunday, January 7, 2018

PICUP Community November Meeting (online via zoom.us)

Wednesday, November 29, 2017

PICUP Departmental Development Workshop at Northwestern University, Evanston, IL

Tuesday, November 21, 2017

PICUP Arizona Regional Workshop at Arizona State University, Tempe, AZ

Saturday, November 18, 2017

PICUP Community October Meeting (online via zoom.us)

Monday, October 23, 2017

Exploration of Integrating Computation into the Curriculum, 2017 Fall Meeting of the Combined Illinois and Wisconsin Sections of the AAPT, Rockford University, Rockford, IL

Friday, October 20, 2017

Workshop: Developing Competency in Teaching Computation using MATLAB (sponsored by Mathworks)

October 15 - 17, 2017, Carleton College, Northfield, MN

PICUP Workshop at the Fall 2017 Fall Meeting of the North Carolina Section of AAPT

Saturday, October 14, 2017

North East Ohio PICUP Regional Workshop at the John Carroll University, Cleveland, OH

Saturday, October 7, 2017

PICUP Workshop at the 2017 AAPT Summer Meeting, Cincinnati, OH

Sunday, July 23, 2017

2017 PICUP Faculty Development Workshop at UW River Falls

Monday, July 10 – Friday, July 14, 2017

PICUP Workshop at the Spring 2017 meeting of SACS-AAPT, Georgia Gwinnett College, Lawrenceville, GA

Saturday, April 22, 2017

PICUP Local Faculty Computational Community Development Workshop at the joint North Dakota and Minnesota AAPT Sections Spring Meeting, North Dakota State University, Fargo, ND


Saturday, April 29, 2017


PICUP Workshop at the Spring Meeting of the Ohio-Region Section of the American Physical Society, Eastern Michigan University, Ypsilanti, MI

Saturday, May 6, 2017

PICUP Community May Meeting (Online via zoom.us)

Tuesday, May 9, 2017

PICUP Community April Meeting (Online via zoom.us)

Tuesday, April 11, 2017

PICUP Workshops at the Spring Illinois Section of AAPT Meeting, Eastern Illinois University, Charelston, IL

Friday, April 7, 2017 -AND- Saturday, April 8, 2017

PICUP Community March Meeting (Online via zoom.us)

Tuesday, March 21, 2017

PICUP Workshop at the 2017 APS March Meeting, New Orleans, LA

Sunday, March 12, 2017

PICUP Workshop at the Texas AAPT Section Spring Meeting, San Antonio College, San Antonio, TX

Friday, March 10, 2017

PICUP Workshop at the 2017 AAPT Winter Meeting, Atlanta, GA

Sunday, February 19, 2017

PICUP Community February Meeting (Online via zoom.us)

Tuesday, February 7, 2017

PICUP Workshop at the APS April Meeting, Washington, DC


Friday, January 27, 2017

PICUP Community December Meeting (Online via zoom.us)

Monday, December 12, 2016

PICUP Community October Meeting (Online via zoom.us)

Monday, October 24, 2016

PICUP Workshop at the Washington State Section of AAPT Meeting, Pierce College, Steilacoom, WA

Saturday, October 22, 2016

PICUP Workshop at the Northeastern Region (New England, New York, & New Jersey AAPT Sections) Meeting, Wesleyan University, Middletown, CT

Saturday, October 22, 2016

PICUP Workshop at the Southern Atlantic Coast Section of AAPT Meeting, Francis Marion University, Florence, SC

Saturday, October 22, 2016

2016 PICUP Summer Faculty Development Workshop at UW River Falls

Monday, August 1 – Friday, August 5, 2016

PICUP Demo Workshop at the AAPT Summer Meeting, Sacramento, CA

Sunday, July 17, 2016, 8am - 12pm

PICUP Workshop at the Chesapeake AAPT Section Meeting, Randolph-Macon College, Ashland, VA

Saturday, April 23, 2016

Global Physics Department Webinar

Wednesday, April 20, 2016

PICUP Workshop at the Southern Atlantic Coast Section of AAPT Meeting, Clayton State University, Morrow, GA

Saturday, April 16, 2016

PICUP Workshop at the APS April Meeting, Salt Lake City, UT


Friday, April 15, 2016

PICUP Workshop at the APS March Meeting, Baltimore, MD

Sunday, March 13, 2016

PICUP Workshop at the AAPT Winter Meeting, New Orleans, LA

Sunday, January 10, 2016