Website Detail Page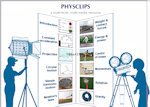 published by the University of New South Wales
written by Joe Wolfe

PhysClips is a collection of rich multimedia tutorials on introductory mechanics, electricity, and magnetism. Physical processes are shown in related film clips, animations, still images, montages, and diagrams, many of which are interactive. Links are also provided to an extensive scope of background materials on each topic.

Subjects
Levels
Resource Types
Education Practices

- Technology

= Multimedia

General Physics

- Collections

Motion, Forces, and Energy

- General

- Lower Undergraduate

- High School

- Informal Education

- Upper Undergraduate

- Collection


- Instructional Material

= Interactive Simulation

- Reference Material


- Audio/Visual

= Image/Image Set
Intended Users
Formats
Ratings

- Learners

- Educators

- General Publics

- application/flash

- text/html

- image/gif
Additional Information
This resource was featured by the PSRC collection from January 7, 2009 until February 28, 2009. View the feature here!
Access Rights:
Free access
Restriction:
© 2006 School of Physics, University of New South Wales, Australia
This work is licensed under a Creative Commons Attribution-Noncommercial-No Derivative Works 2.5 Australia License.
Keywords:
film clips, multimedia, tutorial, video clips
Record Cloner:
Metadata instance created November 14, 2008 by Caroline Hall

Record Updated:
Jan 19, 2010 by Lyle Barbato

Last Update
when Cataloged:
August 31, 2008
Other Collections:


ComPADRE is beta testing Citation Styles!
Disclaimer
: ComPADRE offers citation styles as a guide only. We cannot offer interpretations about citations as this is an automated procedure. Please refer to the style manuals in the
Citation Source Information
area for clarifications.
Have experience with this material? Login to leave a comment sharing your experience.
Know of a related resource? Login to relate this resource to other material across the web.
Know of a better resource? Suggest it!
See a problem with this material's physics or description? Contact us!