Featured Collection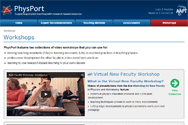 PhysPort
The go-to place for physics faculty to find research-based resources for physics teaching, student assessment, and professional development.
Did You Know?
You can create your own customized multimedia unit for high school physics or physical science. Click here to see an example.
The AAPT ComPADRE Digital Library is a network of free online resource collections supporting faculty, students, and teachers in Physics and Astronomy Education.
Each of our collections contain materials designed for a specific group or course. Browse below to find a collection right for you.
Faculty Resources