Welcome to the new uCOMP Collection!
Welcome to uCOMP, a collection and a place for sharing information and resources for those interested in computational physics. The resources in this collection are supplements to standard computational physics textbooks and include student activities, background information, and applications. New users may create an account to personalize their use of uCOMP. This will allow you to suggest resources, add comments, and organize resources.
This just in...
Featured Materials
Easy Java Simulations Modeling and Authoring Tool
The Easy Java Simulations modeling environment allows both experienced programmers and novices to quickly and easily prototype, test, and distribute packages of Java simulations.

EJS version 5.0 later add the capability of creating html5+Javascript models to run on tablets and smart phones.
uCOMP Featured Resource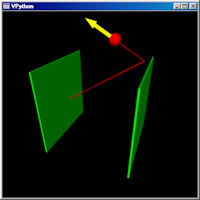 VPython
vpython is a modeling environment allowing novice programmers to develop 3D animations.