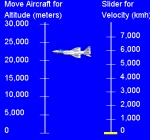 written by the NASA Glenn Research Center
edited by Tom Benson

Web site contains java applet which allows the user to investigate how the changes in altitude affect aerodynamic variables like temperature and pressure. The user can even select the Martian atmosphere.

Please note that this resource requires Java Applet Plug-in.

Subjects
Levels
Resource Types
Fluid Mechanics

- General

- Statics of Fluids

= Atmospheric Pressure

Other Sciences

- Engineering

- Lower Undergraduate

- High School

- Upper Undergraduate

- Instructional Material

= Curriculum support

- Audio/Visual

= Movie/Animation
Intended Users
Formats
Ratings

- Educators

- Learners

- application/java
Access Rights:

Free access

Restriction:

Does not have a copyright, license, or other use restriction.


Keywords:

Mars, air pressure, altitude, pressure

Record Cloner:

Metadata instance created August 9, 2008 by Taha Mzoughi

Record Updated:

August 9, 2008 by Taha Mzoughi

Other Collections:



ComPADRE is beta testing Citation Styles!
Disclaimer
: ComPADRE offers citation styles as a guide only. We cannot offer interpretations about citations as this is an automated procedure. Please refer to the style manuals in the
Citation Source Information
area for clarifications.
Supplements
Contribute
Related Materials
Similar Materials