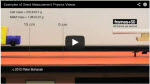 written by Peter Bohacek
published by the Science Education Resource Center

This teaching method description outlines the use of videos for active learning in introductory physics classes. Direct Measurement Videos show events that students can analyze using physics concepts. Grids, rulers, frame-counters and other overlays allow students to make measurements from the video. Students use these measurements to answer questions and solve problems. These questions can be used with inquiry-based learning or modeling instruction.

This material includes best practices for using these videos, a library of videos, and example class activities.

This material is part of Pedagogy in Action, a library of resources for educators provided by SERC, the Science Education Resource Center.

Please note that this resource requires Quicktime.

Subjects
Levels
Resource Types
Classical Mechanics

- General

- Motion in One Dimension

= Acceleration

= Position & Displacement

Education Foundations

- Cognition

= Cognition Development

Education Practices

- Active Learning

- Technology

= Multimedia

General Physics

- Collections

= Introductory Laboratories

- Measurement/Units

- Lower Undergraduate

- High School

- Collection


- Instructional Material

= Activity

= Instructor Guide/Manual

- Audio/Visual

= Movie/Animation
Intended Users
Formats
Ratings

- Educators

- Professional/Practitioners

- text/html

- application/ms-word

- application/pdf

- video/quicktime
Access Rights:

Free access
Free for individual teachers. Please contact author for institutional use

Restriction:

© 2013 Peter Bohacek/ISD197


Keywords:

direct measurement, inquiry, kinematics videos, modeling, video, video analysis

Record Creator:

Metadata instance created February 11, 2013 by Peter Bohacek

Record Updated:

March 6, 2013 by Caroline Hall

Last Update
when Cataloged:

February 9, 2013

Other Collections:



AAAS Benchmark Alignments (2008 Version)
4. The Physical Setting
4F. Motion
9-12: 4F/H1. The change in motion (direction or speed) of an object is proportional to the applied force and inversely proportional to the mass.
9-12: 4F/H2. All motion is relative to whatever frame of reference is chosen, for there is no motionless frame from which to judge all motion.
9-12: 4F/H4. Whenever one thing exerts a force on another, an equal amount of force is exerted back on it.
9-12: 4F/H7. In most familiar situations, frictional forces complicate the description of motion, although the basic principles still apply.
9-12: 4F/H8. Any object maintains a constant speed and direction of motion unless an unbalanced outside force acts on it.
9. The Mathematical World
9B. Symbolic Relationships
9-12: 9B/H1b. Sometimes the rate of change of something depends on how much there is of something else (as the rate of change of speed is proportional to the amount of force acting).
11. Common Themes
11B. Models
6-8: 11B/M1. Models are often used to think about processes that happen too slowly, too quickly, or on too small a scale to observe directly. They are also used for processes that are too vast, too complex, or too dangerous to study.
12. Habits of Mind
12B. Computation and Estimation
9-12: 12B/H2. Find answers to real-world problems by substituting numerical values in simple algebraic formulas and check the answer by reviewing the steps of the calculation and by judging whether the answer is reasonable.
9-12: 12B/H9. Consider the possible effects of measurement errors on calculations.
Common Core State Standards for Mathematics Alignments
Standards for Mathematical Practice (K-12)
MP.4 Model with mathematics.
MP.6 Attend to precision.
High School — Algebra (9-12)
Seeing Structure in Expressions (9-12)
A-SSE.1.b Interpret complicated expressions by viewing one or more of their parts as a single entity.
Creating Equations? (9-12)
A-CED.4 Rearrange formulas to highlight a quantity of interest, using the same reasoning as in solving equations.
Reasoning with Equations and Inequalities (9-12)
A-REI.3 Solve linear equations and inequalities in one variable, including equations with coefficients represented by letters.
High School — Functions (9-12)
Interpreting Functions (9-12)
F-IF.6 Calculate and interpret the average rate of change of a function (presented symbolically or as a table) over a specified interval. Estimate the rate of change from a graph.
Linear, Quadratic, and Exponential Models? (9-12)
F-LE.1.b Recognize situations in which one quantity changes at a constant rate per unit interval relative to another.
F-LE.1.c Recognize situations in which a quantity grows or decays by a constant percent rate per unit interval relative to another.
F-LE.5 Interpret the parameters in a linear or exponential function in terms of a context.
ComPADRE is beta testing Citation Styles!
Disclaimer
: ComPADRE offers citation styles as a guide only. We cannot offer interpretations about citations as this is an automated procedure. Please refer to the style manuals in the
Citation Source Information
area for clarifications.
Using Direct Measurement Video to Teach Physics:
Is Part Of
Pedagogy in Action: Library Portal
This is the portal to Pedagogy in Action, providing access to teaching modules, learning activities, and research on learning.
relation by Caroline Hall
---
Know of another related resource? Login to relate this resource to it.
Supplements
Contribute
Related Materials
Similar Materials
Featured By