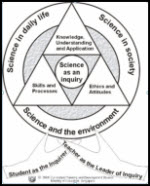 written by Loo Kang Wee

Talk FC06 in the "Computational and Online Tools for Teaching Physics" session highlights the Open Source Physics (OSP) community of educators that engage, enable and empower teachers as learners so that we create DIY technology tools-simulation for inquiry learning. We learn through Web 2 online collaborative means to develop simulations together with reputable physicists through the open source digital library. By examining the open source codes of the simulation through the Easy Java Simulation (EJS) toolkit, we are able make sense of the physics from the computational models created by practicing physicists. We will share newer (2010-present) simulations that we have remixed from existing library of simulations models into suitable learning environments for inquiry of physics. We hope other teachers would find these simulations useful and remix them that suit their own context and contribute back to benefit all humankind, becoming citizens for the world.

2012 AAPT Winter Meeting
Ontario CA USA: Feb 4-8, 2012
Pages 10

download 702kb .pdf
Published: February 4, 2012
Subjects
Levels
Resource Types
Education Practices

- Active Learning

= Modeling

- Instructional Material Design

General Physics

- Computational Physics

- Professional Development

- Lower Undergraduate

- Instructional Material

= Best practice

- Reference Material

= Proceedings
Intended Users
Formats
Ratings

- Professional/Practitioners

- Educators

- application/pdf
Access Rights:

Free access

License:

This material is released under a Creative Commons Attribution 3.0 license.

Rights Holder:

Loo Kang WEE

Keywords:

EJS, Easy Java Simulations, OSP, Open Source Physics, design, instructional materials, introductory physics, pedagogy, undergraduate

Record Cloner:

Metadata instance created February 12, 2012 by Wolfgang Christian

Record Updated:

February 24, 2012 by Lyle Barbato

Last Update
when Cataloged:

February 4, 2012

Other Collections:



ComPADRE is beta testing Citation Styles!
Disclaimer
: ComPADRE offers citation styles as a guide only. We cannot offer interpretations about citations as this is an automated procedure. Please refer to the style manuals in the
Citation Source Information
area for clarifications.
AAPT 2012 Conference Presentation: Physics Educators as Designers of Simulations:
Is Referenced By
Open Source Physics Simulations by lookang - AAPTWM12
This blog post on the "Physics Educators as Designers of Simulations" presentation has 6 computer models for download, the presentation powerpoint, a video recording, and a podcast.
relation by Lyle Barbato
---
Know of another related resource? Login to relate this resource to it.
Contribute
Related Materials
Similar Materials