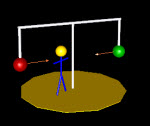 written by Michael R. Gallis

The Simple Circular Motion Model explores amusement park rides like a Merry-Go-Round. The rotational speed and radial distance are controlled with sliders at the bottom of the applet. The controls are "lagged" to reduce the unphysical results of "slamming" the simulation controls. The net horizontal force on the riders is monitored in the accompanying graph in terms of "g's", that is, in terms of multiples of the rider's weight.

The Simple Circular Motion Model was created using the Easy Java Simulations (EJS) modeling tool. It is distributed as a ready-to-run (compiled) Java archive. Double clicking the jar file will run the program if Java is installed.

Please note that this resource requires at least version 1.5 of Java (JRE).


download 2124kb .jar
Last Modified: October 7, 2013
previous versions

View the source code document attached to this resource

Simple Circular Motion Source Code
The source code zip archive contains an XML representation of the Simple Circular Motion Model. Unzip this archive in your Ejs workspace to compile and run…
more...
download 519kb .zip
Last Modified: January 15, 2012
Subjects
Levels
Resource Types
Classical Mechanics

- Motion in Two Dimensions

= 2D Acceleration

- Newton's Second Law

= Force, Acceleration

- Rotational Dynamics

- High School

- Lower Undergraduate

- Middle School

- Instructional Material

= Activity
Intended Users
Formats
Ratings

- Learners

- Educators

- application/java
Access Rights:

Free access

License:

This material is released under a GNU General Public License Version 3 license.

Rights Holder:

Michael Gallis

Keywords:

amusement park, angular velocity, centripetal acceleration, centripetal force, circular motion, free body diagrams, rotational energy

Record Cloner:

Metadata instance created January 15, 2012 by Wolfgang Christian

Record Updated:

October 7, 2013 by Wolfgang Christian

Last Update
when Cataloged:

January 9, 2012

Other Collections:



AAAS Benchmark Alignments (2008 Version)
4. The Physical Setting
4E. Energy Transformations
6-8: 4E/M4. Energy appears in different forms and can be transformed within a system. Motion energy is associated with the speed of an object. Thermal energy is associated with the temperature of an object. Gravitational energy is associated with the height of an object above a reference point. Elastic energy is associated with the stretching or compressing of an elastic object. Chemical energy is associated with the composition of a substance. Electrical energy is associated with an electric current in a circuit. Light energy is associated with the frequency of electromagnetic waves.
4F. Motion
6-8: 4F/M3b. If a force acts towards a single center, the object's path may curve into an orbit around the center.
9-12: 4F/H8. Any object maintains a constant speed and direction of motion unless an unbalanced outside force acts on it.
11. Common Themes
11B. Models
6-8: 11B/M4. Simulations are often useful in modeling events and processes.
9-12: 11B/H3. The usefulness of a model can be tested by comparing its predictions to actual observations in the real world. But a close match does not necessarily mean that other models would not work equally well or better.
ComPADRE is beta testing Citation Styles!
Disclaimer
: ComPADRE offers citation styles as a guide only. We cannot offer interpretations about citations as this is an automated procedure. Please refer to the style manuals in the
Citation Source Information
area for clarifications.
Simple Circular Motion Model:
---
Know of another related resource? Login to relate this resource to it.
Supplements
Contribute
Related Materials
Is Based On Is Supplemented By Supplements
Similar Materials