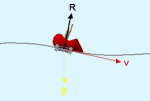 written by Michael R. Gallis
edited by Wolfgang Christian
content provider: Barbara Christian, Anne Cox, and Mario Belloni

The EJS Roller Coaster model explores the relationship between kinetic, potential, and total energy as a cart travels along a roller coaster. Users can create their own roller coaster curve and observe the resulting motion.

The Roller Coaster model was created using the Easy Java Simulations (EJS) modeling tool. It is distributed as a ready-to-run (compiled) Java archive. Double clicking the jar file will run the program if Java is installed.

Please note that this resource requires at least version 1.5 of Java (JRE).


download 2614kb .jar
Last Modified: August 20, 2013
previous versions

View the supplemental documents attached to this resource (4)

View the source code document attached to this resource

Roller Coaster Model source code
The source code zip archive contains an XML representation of the Roller Coaster Model. Unzip this archive in your Ejs workspace to compile and run this…
more...
download 361kb .zip
Published: October 27, 2008
previous versions
Subjects
Levels
Resource Types
Classical Mechanics

- General

- Motion in One Dimension

- Work and Energy

= Conservation of Energy

General Physics

- Computational Physics

- Lower Undergraduate

- High School

- Middle School

- Instructional Material

= Model
Intended Users
Formats
Ratings

- Learners

- Educators

- application/java
Access Rights:

Free access

License:

This material is released under a GNU General Public License Version 3 license.

Rights Holder:

Michael Gallis

Merlot:

pending

Keywords:

friction, gravity, normal force, kinetic energy, roller coaster, thermal energy

Record Cloner:

Metadata instance created October 27, 2008 by Wolfgang Christian

Record Updated:

September 19, 2013 by Andreu Glasmann

Last Update
when Cataloged:

October 27, 2008

Other Collections:



AAAS Benchmark Alignments (2008 Version)
4. The Physical Setting
4E. Energy Transformations
6-8: 4E/M1. Whenever energy appears in one place, it must have disappeared from another. Whenever energy is lost from somewhere, it must have gone somewhere else. Sometimes when energy appears to be lost, it actually has been transferred to a system that is so large that the effect of the transferred energy is imperceptible.
6-8: 4E/M4. Energy appears in different forms and can be transformed within a system. Motion energy is associated with the speed of an object. Thermal energy is associated with the temperature of an object. Gravitational energy is associated with the height of an object above a reference point. Elastic energy is associated with the stretching or compressing of an elastic object. Chemical energy is associated with the composition of a substance. Electrical energy is associated with an electric current in a circuit. Light energy is associated with the frequency of electromagnetic waves.
9-12: 4E/H1. Although the various forms of energy appear very different, each can be measured in a way that makes it possible to keep track of how much of one form is converted into another. Whenever the amount of energy in one place diminishes, the amount in other places or forms increases by the same amount.
9-12: 4E/H9. Many forms of energy can be considered to be either kinetic energy, which is the energy of motion, or potential energy, which depends on the separation between mutually attracting or repelling objects.
4F. Motion
6-8: 4F/M3a. An unbalanced force acting on an object changes its speed or direction of motion, or both.
9-12: 4F/H7. In most familiar situations, frictional forces complicate the description of motion, although the basic principles still apply.
11. Common Themes
11B. Models
6-8: 11B/M1. Models are often used to think about processes that happen too slowly, too quickly, or on too small a scale to observe directly. They are also used for processes that are too vast, too complex, or too dangerous to study.
6-8: 11B/M2. Mathematical models can be displayed on a computer and then modified to see what happens.
6-8: 11B/M4. Simulations are often useful in modeling events and processes.
12. Habits of Mind
12C. Manipulation and Observation
6-8: 12C/M3. Make accurate measurements of length, volume, weight, elapsed time, rates, and temperature by using appropriate devices.
Common Core State Standards for Mathematics Alignments
Standards for Mathematical Practice (K-12)
MP.4 Model with mathematics.
Ratios and Proportional Relationships (6-7)
Understand ratio concepts and use ratio reasoning to solve problems. (6)
6.RP.1 Understand the concept of a ratio and use ratio language to describe a ratio relationship between two quantities.
Expressions and Equations (6-8)
Reason about and solve one-variable equations and inequalities. (6)
6.EE.6 Use variables to represent numbers and write expressions when solving a real-world or mathematical problem; understand that a variable can represent an unknown number, or, depending on the purpose at hand, any number in a specified set.
Work with radicals and integer exponents. (8)
8.EE.2 Use square root and cube root symbols to represent solutions to equations of the form x² = p and x³ = p, where p is a positive rational number. Evaluate square roots of small perfect squares and cube roots of small perfect cubes. Know that ?2 is irrational.
Functions (8)
Use functions to model relationships between quantities. (8)
8.F.5 Describe qualitatively the functional relationship between two quantities by analyzing a graph (e.g., where the function is increasing or decreasing, linear or nonlinear). Sketch a graph that exhibits the qualitative features of a function that has been described verbally.
NSES Content Standards
ComPADRE is beta testing Citation Styles!
Disclaimer
: ComPADRE offers citation styles as a guide only. We cannot offer interpretations about citations as this is an automated procedure. Please refer to the style manuals in the
Citation Source Information
area for clarifications.
Roller Coaster Model:
Is the Basis For
Roller Coaster Energy
A BQ Learning resource that uses this OSP item.
relation by Wolfgang Christian
---
Know of another related resource? Login to relate this resource to it.
Supplements
Contribute
Related Materials
Similar Materials
Featured By