Website Detail Page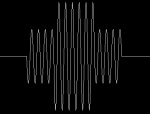 This ComPADRE record is no longer active in the Physics To Go collection as issues accessing this resource were encountered repeatedly. This resource is periodically rechecked to determine if it is stable once again. If you feel this record should be re-included, you may contact the editor using our feedback form.
written by Edward Zobel

This applet, by Zona Land, demonstrates basic wave superposition through an interactive simulation. The user selects two initial waveforms, moves them together, and views the resulting interference. Colorful displays and brief explanations help explain what is happening on the screen.

Subjects
Levels
Resource Types
Waves and Pendula

- Wave Motion

= Interference and Diffraction

- High School

- Lower Undergraduate

- Informal Education

- Instructional Material

= Activity

- Audio/Visual

= Movie/Animation
Intended Users
Formats
Ratings

- Learners

- Educators

- application/java
Additional Information
This resource was a Physics To Go feature from July 1, 2008 until July 16, 2008. View the feature here!
Access Rights:
Free access
Restriction:
© 1997 Edward A. Zobel
Has a copyright or other licensing restriction.
Keywords:
constructive, destructive, interference, superposition, wave, wave application, waves
Record Creator:
Metadata instance created June 24, 2008 by Logan Hancock

Record Updated:
Dec 09, 2014 by Lyle Barbato

Last Update
when Cataloged:
January 1, 2006
Other Collections:


ComPADRE is beta testing Citation Styles!
Disclaimer
: ComPADRE offers citation styles as a guide only. We cannot offer interpretations about citations as this is an automated procedure. Please refer to the style manuals in the
Citation Source Information
area for clarifications.
Have experience with this material? Login to leave a comment sharing your experience.
Know of a related resource? Login to relate this resource to other material across the web.
Know of a better resource? Suggest it!
See a problem with this material's physics or description? Contact us!