Computer Program Detail Page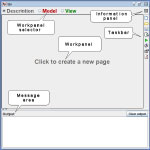 This ComPADRE record has not been chosen for inclusion into the Physics To Go collection. If you feel this record should be included, you may contact the editor using our feedback form.
written by Francisco Esquembre
content provider: Wolfgang Christian

Easy Java Simulations (EJS) is a Java program that enables both programmers and novices to quickly and easily prototype, test, and distribute packages of Java simulations.

Please note that this resource requires at least version 1.5 of Java (JRE).


View the supplemental documents attached to this resource (2)
Subjects
Levels
Resource Types
Education Practices

- Curriculum Development

= Course

General Physics

- Computational Physics

Other Sciences

- Computer Science

- Upper Undergraduate

- Lower Undergraduate

- High School

- Graduate/Professional

- Instructional Material

= Curriculum
Intended Users
Formats
Ratings

- Learners

- Professional/Practitioners

- Educators

- application/java
Additional Information
This resource was featured by the Statistical and Thermal Physics collection from April 1, 2011 until December 1, 2011. View the feature here!
This material is currently being featured by the uCOMP collection. View the feature here!