The Physics To Go website will be unavailable Friday evening through Saturday afternoon as electrical work occurs in the American Center of Physics server room. Down time will begin at 6PM Eastern Time on Friday. Service is expected to resume by 6PM on Saturday, July 30.
Website Detail Page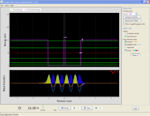 published by the Physics Education Technology Project

With this PhET simulation, you can explore quantum bound states in double potential wells. You can interactively change features such as the width, spacing, and height of the wells, and see the changes to the energy eigenstates and wave functions continuously. Time-dependent probability densities and wave functions can be shown using a variety of representations, for both eigenstates and superposition states. You can select between square and Coulomb potential wells.

Subjects
Levels
Resource Types
Quantum Physics

- Bound State Systems

- Probability, Waves, and Interference

- Upper Undergraduate

- Lower Undergraduate

- Instructional Material

= Activity
Intended Users
Formats
Ratings

- Learners

- Educators

- application/java
Additional Information
This resource was featured by the Quantum Exchange collection from May 15, 2011 until August 15, 2011. View the feature here!
Mirror:
http://phet.colorado.edu/sims/bound-states/co…
Access Rights:
Free access
Restriction:
© 2005 PHET and University of Colorado
Additional information is available.
Keywords:
covalent bond, double well, potential well, wave function
Record Cloner:
Metadata instance created October 3, 2006 by Gifford Weber

Record Updated:
May 15, 2011 by Bruce Mason

Last Update
when Cataloged:
August 11, 2006
Other Collections:


ComPADRE is beta testing Citation Styles!
Disclaimer
: ComPADRE offers citation styles as a guide only. We cannot offer interpretations about citations as this is an automated procedure. Please refer to the style manuals in the
Citation Source Information
area for clarifications.
Have experience with this material? Login to leave a comment sharing your experience.
Know of a related resource? Login to relate this resource to other material across the web.
Know of a better resource? Suggest it!
See a problem with this material's physics or description? Contact us!