Computer Program Detail Page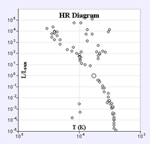 This record is currently in the approval process for inclusion into the Physics To Go collection. If you feel this record should be given priority you may contact the editor using our feedback form.
written by Mario Belloni

The Hertzsprung–Russell (H-R) Diagrams model simulates Hertzsprung–Russell (HR or H-R) diagram for groups of stars. The diagram is a scatter plot of steller luminosity vs. stellar temperature. The luminosity of stars is proportional to the star's radius squared and its temperature to the fourth power, and for Main Sequence stars, their luminosity is also proportional to their mass to the 3.5 power. Since the range of stellar luminosities and stellar temperatures is so large, the plot uses a log-log scale. The diagram is a way to understand stellar evolution.

The HR diagram shows nearby stars, bright stars, and a user-defined star. One can also show the blackbody radiation curve and the user-defined star. The radius of the user-defined star (in Rsun) and the temperature of the user-defined star in Kelvin (5780 K is Tsun) can be changed.

Please note that this resource requires at least version 1.5 of Java (JRE).

Please note that this resource requires Java3D.


View the source code document attached to this resource
Hertzsprung–Russell (H-R) Diagrams Source Code
The source code zip archive contains an XML representation of the Hertzsprung–Russell (H-R) Diagrams Model. Unzip this archive in your EJS workspace to compile and run this model using EJS.
Subjects
Levels
Resource Types
Astronomy

- Astronomy Education

= Curricula

- Stars

= Hertzsprung-Russell Diagram

Light

- Photometry

= Blackbodies

- High School

- Lower Undergraduate

- Informal Education

- Instructional Material

= Curriculum support
Intended Users
Formats
Ratings

- Learners

- Educators

- application/java
Additional Information
This resource was featured by the uCOMP collection from October 1, 2012 until March 31, 2013. View the feature here!
Access Rights:
Free access
License:
This material is released under a GNU General Public License Version 3 license.
Rights Holder:
Mario Belloni
Keywords:
EJS, Easy Java Simulations, H-R Diagram, OSP, Open Source Physics, blackbody, spectrum, star
Record Cloner:
Metadata instance created November 11, 2010 by Mario Belloni

Record Updated:
Jun 06, 2014 by Andreu Glasmann

Last Update
when Cataloged:
November 11, 2010
Other Collections:


ComPADRE is beta testing Citation Styles!
Disclaimer
: ComPADRE offers citation styles as a guide only. We cannot offer interpretations about citations as this is an automated procedure. Please refer to the style manuals in the
Citation Source Information
area for clarifications.
Hertzsprung–Russell (H-R) Diagrams:
---
Know of another related resource? Login to relate this resource to it.
Have experience with this material? Login to leave a comment sharing your experience.
Know of a related resource? Login to relate this resource to other material across the web.
Know of a better resource? Suggest it!
See a problem with this material's physics or description? Contact us!