Computer Program Detail Page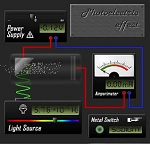 This ComPADRE record has not been chosen for inclusion into the Physics To Go collection. If you feel this record should be included, you may contact the editor using our feedback form.
written by Jose Ignacio Fernández Palop

The EJS Photoelectric Effect model simulates the Photoelectric effect discovered by Hertz in 1887 and described theoretically by Einstein in 1905. Light of a given frequency (and energy) shines on a metal. If the frequency (energy) of the light is greater than the work function, W, of the metal, electrons are ejected and can form a current (which is shown in milliAmperes). These photoelectrons will also have a kinetic energy if the energy of the light is greater than the workfunction. they will have kinetic energy. If subjected to an electric potential the electrons can be stopped from reaching the plate and stop current from flowing in a circuit.

The EJS Photoelectric Effect model was created using the Easy Java Simulations (EJS) modeling tool. It is distributed as a ready-to-run (compiled) Java archive. Double clicking the ejs_qm_photoelectric.jar file will run the program if Java is installed.

Please note that this resource requires at least version 1.5 of Java (JRE).


View the source code document attached to this resource
EJS Photoelectric Effect Model Source Code
The source code zip archive contains an XML representation of the EJS Photoelectric Effect Model. Unzip this archive in your EJS workspace to compile and run this model using EJS.
Subjects
Levels
Resource Types
Quantum Physics

- Probability, Waves, and Interference

- Quantum Experiments

- Lower Undergraduate

- Upper Undergraduate

- Instructional Material

= Interactive Simulation
Intended Users
Formats
Ratings

- Learners

- Educators

- application/java
Access Rights:
Free access
License:
This material is released under a Creative Commons Attribution-Noncommercial-Share Alike 3.0 license.
Rights Holder:
José Ignacio Fernández Palop
Merlot:
pending

Keywords:
EJS, Easy Java Simulations, OSP, Open Source Physics, Photoelectric, modern physcis, quantum mechanics
Record Cloner:
Metadata instance created July 15, 2010 by Mario Belloni

Record Updated:
Apr 09, 2014 by Bruce Mason

Last Update
when Cataloged:
July 15, 2010
Other Collections:


ComPADRE is beta testing Citation Styles!
Disclaimer
: ComPADRE offers citation styles as a guide only. We cannot offer interpretations about citations as this is an automated procedure. Please refer to the style manuals in the
Citation Source Information
area for clarifications.
Have experience with this material? Login to leave a comment sharing your experience.
Know of a related resource? Login to relate this resource to other material across the web.
Know of a better resource? Suggest it!
See a problem with this material's physics or description? Contact us!